UCI President Pat McQuaid attacks claims of corruption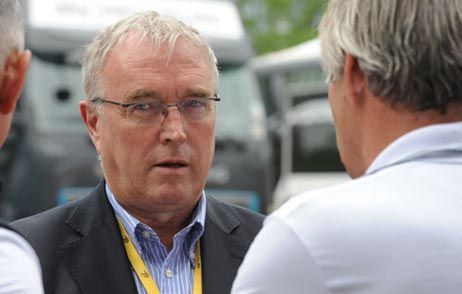 UCI President Pat McQuaid overnight attacked claims of corruption in a document leaked on the internet. The document is "disturbing" and may upset McQuaid's bid to win a third presidential election this month.
"The claims in this so-called dossier are a complete fabrication. They are totally untrue and are not supported by a scintilla of evidence," McQuaid said in a statement.
"This is a scurrilous and libellous attack on my character, with a political agenda that is both nakedly transparent and totally contemptible - and unfortunately one that is completely in character with the tactics of my opponents."
UCI Management Committee member and former USA Cycling president, Mike Plant distributed the dossier in June at a committee meeting in Norway. The documents reportedly contained allegations of corruption against McQuaid and former UCI president, Hein Verbruggen. The allegations were partly revealed as part of the US doping case against Lance Armstrong last year.
The dossier reportedly sparked a heated debate between McQuaid and other committee members at its meeting in June. Now that it is leaked, McQuaid is on the attack again. He said that his own body's Ethics Commission would investigate internal corruption claims if it had the documents.
"The UCI Ethics Commission have already tried to investigate the matter," McQuaid continued. "The Ethics Commission asked for a copy of the dossier from Igor Makarov and Mike Plant, but both of them refused to hand it over to the Ethics Commission. That fact alone speaks volumes."
The full dossier reportedly made its rounds in June at the meeting. British Cycling president and committee member, Brian Cookson called the claims "disturbing."
"I have to respect the confidentiality of the Management Committee with regards to the contents of the dossier," Cookson said in a statement at the time. "But what I can say is that I was disturbed by what I heard and I have been assured it will be properly investigated."
Cookson is McQuaid's sole rival in this month's presidential elections. If elected, he promises to restore the UCI's credibility. "The UCI, remains hugely distracted, continuing to flounder in waves of damaging historical controversies," Cookson wrote in his manifesto. "The UCI needs to embrace a new way of doing things."
McQuaid is defending himself against corruption allegations and trying to maintain his footing with weeks remaining until the elections.