Copenhagen World Cup – Day 2 finals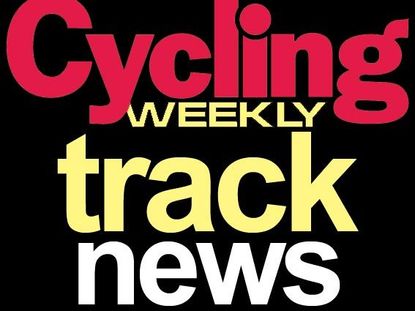 The story so far ? Day one finals
A gold and a silver were the high spots of British Cycling's second day in the Copenhagen velodrome, but there were furrowed brows after Chris Hoy crashed in the Keirin final and was taken to hospital for observation.
The British team pursuit squad was juggled to good effect to produce a gold medal and Katie Colclough got a smartly-earned silver in the women's points race.
In the team pursuit, Steven Burke, Ed Clancy, Rob Hayles and Pete Kennaugh rode a 4-04 to top qualifying and set up a final against Spain. The final didn't go the distance as the GB team caught Spain in the final kilometre. For the final Chris Newton replaced Hayles. Team 100% ME's quartet were eighth in qualifying with a 4-14.
Colclough (Team 100% ME) grabbed a silver medal in the points race, after getting into a five-rider move which gained a lap. Dutch rider Eleonora Van Dijk won the race.
A medal looked on the cards in the Keirin when both Hoy and Ross Edgar made the final, although Edgar had to go through the first round repechage race.
But in a rocky final Hoy and Kevin Sireau collided on the last corner and went down. Edgar also crashed but he got up to finish fourth.
Victoria Pendleton was fifth in the 500 metres which on the face of it may seem a surprising result, but perhaps is not considering the fact she has not made it her priority for the past couple of seasons.
The young pair Anna Blyth and Helen Scott just missed out on bronze in the women's team sprint.
But arguably the most note-worthy ride of the day came from the American Taylor Phinney.
Seemingly not satisfied with his blistering 4-15 in the individual pursuit on Friday, he also won the kilometre, beating the pure sprinters with a 1-01.6 to catapult him into the world-class category.
After the World Cup races, Britain's Darren Kenny set a new para-athlete's Hour record, after covering just over 40 kilometres.
Day 2 finals results
WOMEN'S 500M TIME TRIAL
1 Lisandra Guerra Rodriguez (Cuba) 34.145sec
2 Sandie Clair (France) 34.172
3 Willy Kanis (Netherlands) 34.256
5 Victoria Pendleton (GB, Sky+HD) 34.417
9 Anna Blyth (Great Britain) 35.626
World Cup overall winner: Jinjie Gong (China)
MEN'S TEAM PURSUIT
1 Great Britain (Burke, Clancy, Kennaugh, Newton)
2 Spain
3 Denmark
8 Team 100% ME
World Cup overall winner: Spain
WOMEN'S POINTS RACE
1 Eleonora Van Dijk (Netherlands) 28pts
2 Katie Colclough (GB, Team 100% ME) 24pts
3 Shelly Olds (USA) 23pts
7 Lizzie Armitstead (GB, Team 100% ME) 10pts
DNF Alex Greenfield (Great Britain)
World Cup overall winner: Giorgia Bronzini (Italy)
MEN'S KEIRIN
1 Kevin Sireau (Fra, Cofidis)
2 Hodei Mazquiaran Uria (Spain)
3 Andrii Vynokurov (Ukraine)
4 Ross Edgar (Great Britain)
World Cup overall winner: Azizulhasni Awang (Malaysia)
MEN'S KILOMETRE
1 Taylor Phinney (USA) 1-01.641
2 Michael D'Almeida (Fra, US Creteil) 1-02.071
3 Quentin Lafargue (France) 1-02.134
8 David Daniell (Great Britain) 1-03.153
World Cup overall winner: Yevhen Bolibrukh (Ukraine)
WOMEN'S TEAM SPRINT
1 Team Toshiba (McCulloch, Meares) 34.058
2 Germany (Vogel, Welte) 34.530
3 China (Guo, Zheng) 35.333
4 Great Britain (Blyth, Scott) 35.410
World Cup overall winner: Germany
MEN'S SCRATCH RACE
1 Kazuhiro Mori (Japan)
2 Franco Marvulli (Switzerland)
3 Daniel Holloway (USA)
World Cup overall winner: Tim Mertens (Belgium)
RELATED LINKS
Preview: Who's riding which event for Britain?
International track results 2008-2009
Day one finals
Thank you for reading 20 articles this month* Join now for unlimited access
Enjoy your first month for just £1 / $1 / €1
*Read 5 free articles per month without a subscription
Join now for unlimited access
Try first month for just £1 / $1 / €1