COURIERS CASH IN AT RAPHA ROLLER RACE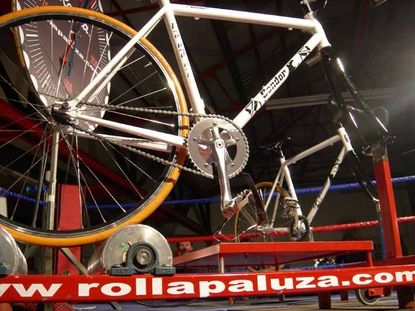 After their dominant performance at the first Rapha Roller Race earlier this year, cycling journalists failed to live up to their billing during Saturday?s second round at the Classic Car Club.
Maybe the journalists had over-trained, maybe they were tired after a heavy season of unbiased reporting, but they were well and truly thrashed by the team of couriers this time around.
Like an England football team after a bad result away from home, the London Couriers fielded a completely new team who were an instant hit in the boxing ring set up by Rollapaluza at the Classic Car Club on Old Street.
Riding the new Condor track bikes, under bright spotlights and in front of a growing crowd, the couriers set three of the five fastest qualifying times, striking fear in to the hearts of the Dutch and Firefly teams who completed the line-up.
CW?s very own Simon Richardson (glorious, ahem, winner of the first event back in February) was the sixth fastest qualifier in 21.54 seconds, but almost a second off the winners pace (20.46secs). His team mate Neil Webb was just a smidge slower in seventh.
Matt Seaton from the Guardian was slower still (22.90), obviously too busy thinking of his cross race at Mallory park the following day, while Andy Waterman from Mountain Bike Rider magazine must have been daydreaming during his 500m effort, posting 23.04.
Only Neil Webb made it past the first knock-out round, and the others scribes were last seen at the bar mumbling something about being nobbled by dastardly couriers hellbent on revenge.
The team event was eventually won by Seb, who beat his Courier team mate Charlie in the final. The women?s team event was won by Emma of the Fireflies team.
In the ?Have a Go? competition, no one got close to Simon Jackson, who set an all comers record in the final, spinning his legs faster than the speed of sound to clock 19.80 second.
Sponsored by Rapha, the night was put on by the Rollapaluza team, who had just returned from a UK wide tour of Universities, pitting students against each other. The next event is on Saturday December 15th at Waterloo Action Centre. For more details go to www.rollapaluza.com.
The Guardian?s Matt Seaton feels the pain
Firelfy team member looks out at the crowd
Thank you for reading 20 articles this month* Join now for unlimited access
Enjoy your first month for just £1 / $1 / €1
*Read 5 free articles per month without a subscription
Join now for unlimited access
Try first month for just £1 / $1 / €1