Danny MacAskill performs 5m loop on the River Thames (video)
Stunt rider Danny MacAskill's latest challenge involved a huge loop-the-loop on a barge in the Thames.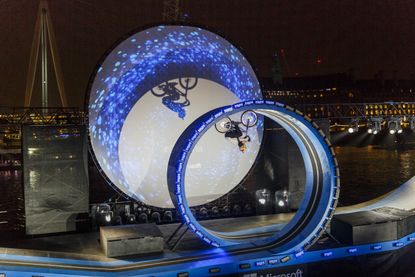 (Image credit: Getty Images for Microsoft)
Stunt rider Danny MacAskill hit the River Thames in London on Wednesday (November 19) to perform a loop-the-loop in front of the London Eye.
The five-metre loop was constructed on a barge in front of the landmark for a stunt to promote Microsoft's personal assistant software, Cortana.
"This is one of the biggest set-ups I have ever ridden and the location is amazing," MacAskill said. "To have a five-metre loop floating on a barge is something surreal. I always look for new challenges and the chance to ride this massive loop with the help of Cortana is another achievement I can be proud of."
The 28-year-old from the Isle of Skye is well-known for his death-defying challenges, which have amassed more than 60 million views on YouTube.
Earlier in the year MacAskill traversed the 12km rocky outcrop of the Black Cuillins on Skye on his bike in a documentary for the BBC.
Prolific trials ace Danny MacAskill releases new video with friends from Drop and Roll on tour
Thank you for reading 20 articles this month* Join now for unlimited access
Enjoy your first month for just £1 / $1 / €1
*Read 5 free articles per month without a subscription
Join now for unlimited access
Try first month for just £1 / $1 / €1