DEFENDING CHAMP SCORES FIRST CYCLO-CROSS WIN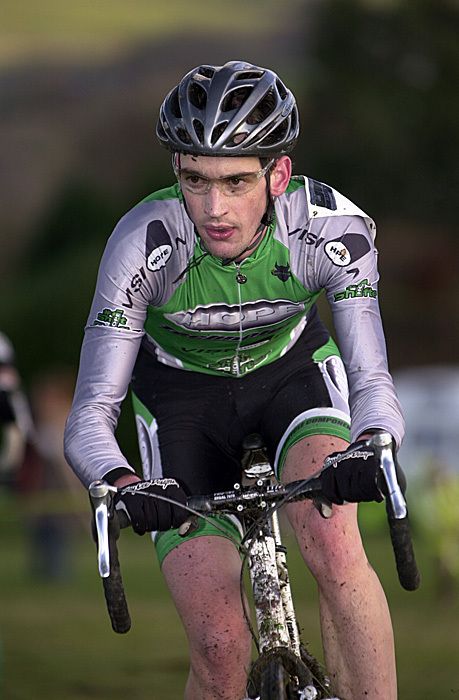 LAST season?s National Trophy champion Paul Oldham sprinted to victory in the third round of the series at Chantry Park in Ipswich on Sunday to narrow the gap on leader Ian Field.
Lancashire-based Oldham (Hope Factory Racing) took victory by five seconds from Arctic Premier RT?s Jody Crawforth, while series leader Ian Field (Hargroves Cycles) was third, another four seconds back.
For much of the race it was a three-horse race with Oldham, Crawforth and Field tussling for position and waiting for each other to make a move, but in the end it came down to a sprint on the final circuit, with Oldham holding off his rivals to take maximum points.
Second and fifth respectively in the opening two rounds Oldham, from Colne, said: ?The course suited me today and it all went really well - it was a perfect day. It rained all day and it was nice and muddy, but still rideable.
?I?ve felt quite strong all week. I felt quite fresh because I?ve not ridden every weekend - I?ve got to keep the missus happy!
?It stayed together until about half a lap to go, which I was surprised about. Jody had a bit of a go off the front but there was a section where I was catching them every lap, where I seemed to be a bit quicker, so on the last lap that?s where I jumped.?
Science in Sport duo Ian Wilkinson and David Collins were with the leading trio for the first lap or two, but fell back to finish fourth and fifth, but Collins had to battle to hold off Three Peaks winner Rob Jebb (Wheelbase) by inches.
National Trophy Series (Round three, Chantry Park, Ipswich, 14 miles).-
1 Paul Oldham (Hope Factory Racing) 1-00-52
2 J. Crawforth (Arctic Premier RT) at 5sec
3 I. Field (Hargroves Cycles) at 9sec
4 I. Wilkinson (Science in Sport) at 1-31
5 D. Collins (Science in Sport) at 1-57
6 R. Jebb (Wheelbase) same time
7 S. Wearmouth (Picarsso Pulman) at 2-24
8 S. Bowers (Hargroves Cycles) at 2-36
9 O. Vazquez (Spain) at 3-42
10 T. Dernackt (Asra Flanders RT) at 3-57
Under-23s.- Ben Roach (Wyre Forest CRC). Over-40s.- Geoff Giddings (MI Racing). Over-50s.- Ian Wright (Wyre Forest CRC). Women.- Suzanne Clarke (Science in Sport). Juniors.- Sam Harrison (Cwmcarn Paragon CC).