Do you need ceramic bearings in your wheels?
James Bracey assesses whether ceramic bearings are a worthwhile upgrade for non-elite, self-funded cyclists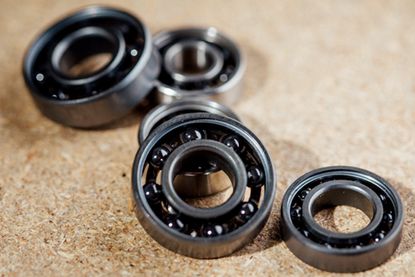 We've all done it: been to the bike shop and spun the wheels to see which feels the fastest. Inevitably, discussion ensues as to which bearings the wheels have, and whether they are ceramic or not.
There has been a lot of coverage and many tests over the past few years on the benefits of ceramic bearings over standard steel bearings. The majority of the professional peloton advocates the advantages of ceramic bearings as offering an edge over the competition.
>>> How much speed can you buy? (video)
CyclingCeramic, the premier French bearing manufacturer, claims that nearly half of the 2014 Tour de France riders were unofficially using its bearings in wheels, bottom brackets or jockey wheels.
A quick look at CyclingCeramic's video of Matthias Brändle's (IAM Cycling) Hour Record wheels shows how incredibly smooth they are.
Faster, lighter, and more durable?
According to research, a well-made ceramic bearing will roll faster, saving you energy and allowing faster cruising speeds compared to an equivalent steel bearing. This is because the properties of ceramic allow the creation of rounder, smoother bearings.
CeramicSpeed, another well-known aftermarket bearing producer, claims that its wheel bearings save six to nine watts over standard steel — a not insignificant amount of power, and effectively free speed.
>>> Are electronic groupsets necessary?
They are also lighter than equivalent steel bearings, so swapping to ceramic bearings will reduce the weight of your bike. The other apparent advantage of ceramic is that it is a harder material, so shouldn't break down as quickly, and is resistant to corrosion. In theory, ceramic bearings should be faster, lighter and last a lot longer than steel bearings.
Find the best hoops for you
Why aren't we all rolling on ceramic bearings?
Ceramic bearings are not cheap. A full set of CyclingCeramic bearings starts at £80, and CeramicSpeed wheel bearings cost from £240. You can find cheaper examples, but cheaper types offer minimal gain over steel bearings.
>>> Six things no one ever told you about Shimano Di2
The lovely 'spin forever' feeling of ceramic bearings is in part thanks to very low-friction seals. The downside, in some cases, is that these seals do a rather poor job of sealing the bearing from outside contaminants.
In the real world, cleaning our bikes and riding in typical British weather can mean that pretty soon those super-fast wheels are reduced to feeling like a cheap pair of training hoops. Of course, you can carefully strip out the bearings, clean and re-lubricate, but they will never feel the same.
>>> Do you need deep section wheels?
Chris King has built its enviable reputation on the quality of its in-house-made steel bearings, as the firm's Brandon Elliott explains: "Our bearings are manufactured to a tolerance few can match, and we've developed our own system of seals that not only protects them from the elements, but also means they're easy to service. With proper care our bearings actually get faster and 'wear in' rather than wear out."
The advantages of steel are not the only argument against ceramic bearings. Quite a few wheel manufacturers state that the use of aftermarket bearings in their wheels voids the warranty.
Time for some aero wheels?
Our take
Fitting ceramic bearings on your bike may be a bit like fitting a Formula One gearbox in your Ford Fiesta and expecting it to perform as well after 100,000 miles. Ceramic bearings are fitted to provide a short-term marginal racing gain; they are not a magic bullet for years of super-slick service.
>>> Are wider tyres really faster?
If you are a pro rider and don't pay for your equipment, looking
to shave a handful of seconds off your 10-mile PB, go ahead. You won't be disappointed… until they need maintenance.
For the rest of us mere mortals, the obvious downsides of costs and increased maintenance to keep them running at their best make ceramic bearings an impractical, unaffordable upgrade.
Find some decent tyres
Do you need ceramic bearings? We asked the experts
Yes: Gary Anderson, Technical manager, Chicken CycleKit/Campagnolo
Campagnolo chooses to put ceramic bearings in all of its wheelsets from mid-range upwards. They are more corrosion-resistant, harder, and last longer in everyday use.
In our higher-end CULT bearings (ceramic balls and races), lighter lubrication is needed, so they roll much quicker with less drag than standard steel bearings. Ceramic deals with heat better, so less friction is a bonus. Plus, they weigh less — always good!
No: Maxime Brunard, Mavic Road Product Line manager
The original bearings we spec are already high-quality steel ones. Replacing them with low-quality ceramic bearings doesn't make sense, as they will very soon be worse than the original ones.
If only high-quality ceramic bearings are used, marginal gains will be achieved. But here at Mavic we have high expectations for tolerances and clearances — and this comes at a price (around €300 per wheelset), and we feel too few of our customers want it.
Thank you for reading 20 articles this month* Join now for unlimited access
Enjoy your first month for just £1 / $1 / €1
*Read 5 free articles per month without a subscription
Join now for unlimited access
Try first month for just £1 / $1 / €1