Dr Hutch: How exactly do you know whether you are under- or over-training?
Overambitious training gives you the worst of both worlds, decides Dr Hutch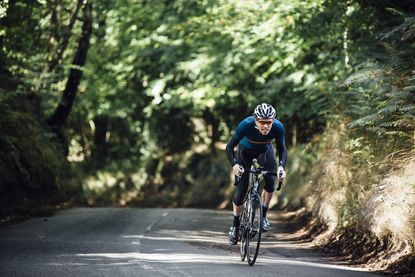 Get The Leadout Newsletter
The latest race content, interviews, features, reviews and expert buying guides, direct to your inbox!
Thank you for signing up to The Pick. You will receive a verification email shortly.
There was a problem. Please refresh the page and try again.
I was out for a ride last week with my friend Bernard. It was a little depressing.
I'm not as fit as I should be, and I've sunk to something approaching Bernie's level. It doesn't help that he's doing 'proper' training at the moment.
I put 'proper' in inverted commas, because it doesn't prevent conversations like this one, as we rode up one of Cambridgeshire's tougher hills.
"Something's wrong," he said.
"I can't decide if I'm overtrained or undertrained."
"Seems to me like two things it should be difficult to get confused," I said.
"On the one hand I've got all the classic symptoms of overtraining. My skin's sallow, I'm knackered all the time, and although I'm polite enough to compensate for it, I'm very, very irritable. And on the other hand I'm still a rubbish bike rider. Either I need to do much more, or much less. I just don't know which."
>>> Dr Hutch: Time to make a horrifying admission
He went on, "I haven't had a decent season since 2006, so I made a really good, hard-hitting training plan for the next three months to get things kick-started, and I'm worried I might have overdone it."
"Well, I don't think you can get overtraining syndrome from writing down too much training," I said. "You might get writer's cramp, but that's about it."
"I've followed through on almost every session, thank you."
"In that case you're definitely trying too hard."
Half a Bernard
Bernie rarely trains seriously — it comes in little spasms of a few weeks, followed by complete disillusionment after a fortnight of epic riding fails to make him into the athlete that his good intentions deserve.
And when it all hits the buffers, he is prone to inaccurate self-diagnosis. His true problems are unrealistic ambition, extreme impatience and the unshakable belief that he's still 21.
But that's never the way he sees it. He can always find something more complicated, something that somehow shifts the blame, something with a quicker fix than actually doing some sustained, structured training. This time last year, we had this conversation:
"I think I've got an imbalance between my legs. My right leg is really good, but my left leg is letting things down a bucketful. I think that's what's wrong. I'm only half a Bernard."
http://www.youtube.com/watch?v=sA_TPdp5GRU
"What makes you think that?"
"The sole of my right foot is really sore."
He'd managed to put two insoles in his right shoe, so it was too tight. But he didn't work that out till he'd pulled every muscle in his lower back with a demented regime of long rides only using his left leg.
And the year before he decided his problems were psychological. I admit I was curious to see where he was going to go with this one, because for a moment I thought that some sort of self-knowledge had broken through. But no.
"Overstimulation, that's my problem," he said. "I get too keyed-up before major events, and then underperform. It's like Mark Cavendish misjudging that sprint in Harrogate — I just want it too much. I need to develop a calmer, deeper focus."
>>> Dr Hutch: Can we have proper cycling scandals back now, please?
"Personally I think you might just need to pedal harder. Also, I'm not even sure the club run counts as a major event. But, honestly, I'm no psychologist."
In truth, though, I suspect he's onto something with his current over-or-under trained question. But I don't think it's a matter of one or the other; I think it's both. After all, he's a fundamentally unfit individual attempting to train like Steve Cummings. That means he's likely to be chronically undertrained, and acutely overtrained, all at once.
I thought about explaining this theory to him. But then I thought it would be more interesting to sit back and see what happens next. I'll keep you updated.
Thank you for reading 20 articles this month* Join now for unlimited access
Enjoy your first month for just £1 / $1 / €1
*Read 5 free articles per month without a subscription
Join now for unlimited access
Try first month for just £1 / $1 / €1
Get The Leadout Newsletter
The latest race content, interviews, features, reviews and expert buying guides, direct to your inbox!
Michael Hutchinson is a writer, journalist and former professional cyclist. As a rider he won multiple national titles in both Britain and Ireland and competed at the World Championships and the Commonwealth Games. He was a three-time Brompton folding-bike World Champion, and once hit 73 mph riding down a hill in Wales. His Dr Hutch columns appears in every issue of Cycling Weekly magazine