Eurosport's Harmon saddles up for RRA tandem record bid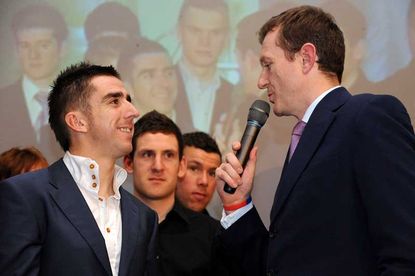 EUROSPORT'S chief cycling commentator David Harmon and Jeremy Hastings are scheduled to make an attempt to set the tandem record for the 363-mile Pembroke to Great Yarmouth this weekend, for which no attempt has yet been established.
Latest news is for a 4am start tomorrow (Saturday) from Pembroke Castle, weather permitting.
Harmon (pictured interviewing Russell Downing) has been fitting in training rides between reporting the stages of the Tours of France and Italy, while Hastings has been clocking up long-distance rides.
Their target time is 17 hours, which will be a 30-minute beating of the standard time required by the Road Records Association (RRA).
The novice pair, who have no previous experience of road record breaking, nevertheless have an impressive back up team of sponsors headed by Wiggle, the online cycling shop.
Frame builder Terry Dolan has built them a Dolan Tandem, "Rocket 1".
The pair will wear the latest skin suits, said to be identical to the kit issued to the Dutch and Belgian Olympic teams.
And a radio link will keep riders and their support cars in touch throughout.
For details of their route and schedule, go to:
http://www.teamwiggletandem.com/pdfs/RRA_2082_P2Y.pdf
Thank you for reading 20 articles this month* Join now for unlimited access
Enjoy your first month for just £1 / $1 / €1
*Read 5 free articles per month without a subscription
Join now for unlimited access
Try first month for just £1 / $1 / €1