Evans strikes gold in World Championships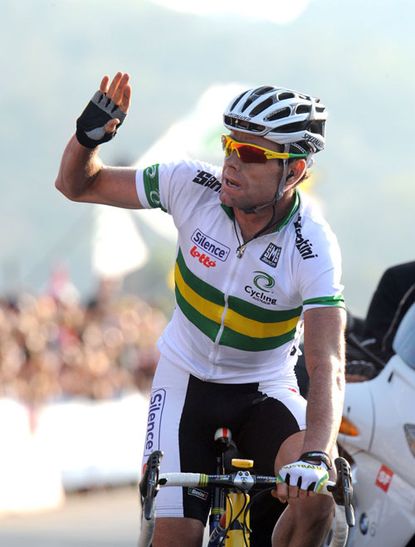 Seven times a bronze or silver medallist in MTB or Under-23 World Championships events, Cadel Evans finally conquered gold just three kilometres from his adopted 'home from home' in southern Switzerland.
Watched by his wife Chiara, in his winner's press conference Evans recognised that he had sometimes been demoralised by so many second and third places in his career.
"But I've always looked ahead at the possibility of another good result further down the line," he added.
"I don't know what this will mean for my country, but I'm proud to be the first ever Australian to win an elite road race in the World Championships."
"I've been thinking about this race for two years, and after I wasn't as competitive as I wanted to be in the Tour de France this summer [finishing 30th - Ed], I refocussed on the Tour of Spain and this race today."
He recognised that Switzerland's Fabian Cancellara had played a key role in his success by toughening up the course in the final lap and a half.
"I was convinced that he would be there at the finish, I saw how he raced in Beijing [finishing third in the road-race]. I know when he's motivated he's always capable of springing surprises, and I worked that to my advantage."
Asked if this was a victory for clean cycling, Evans claimed "it's not my responsiblity to answer that."
"I'm just thinking about the fact that people keep on saying I never win anything. Well this time I've won, and this isn't a small race, either."
Road World Championships 2009: Related links
News
Brits look to learn from difficult day in Mendrisio
Kennaugh proud of gutsy fourth place performance
Pooley disappointed with ride in women's road race
Cooke to fight back in women's road race after difficulat season
Millar ready to take command of Worlds team
Kennaugh ready for under-23 road race
Wiggins accepts time trial defeat
Cancellara says TT victory was 'most beautiful ever'
Men's time trial start list
Pooley disappointed with 11th in time trial
Ellingworth explains Cavendish withdrawal from Worlds
Dowsett happy with world-class ride in under-23 TT
Manning praises Dowsett after Worlds TT ride
It's Cavendish or Stannard for final worlds place
Great Britain names world championships team
Millar won't ride worlds time trial despite Vuelta win
Wiggins quits Tour of Britain to focus on worlds TT
Out of sorts Cooke abandons Tour de l'Ardeche
Cavendish keen to ride worlds despite illness
Millar set to lead GB road race team at the Worlds
Brits head home to fight for worlds places
Reports
Evans wins World Champs road race
Kennaugh notches up fourth for GB in U23 road race
Guderzo solos to victory in women's road race
Cancellara blasts to third Worlds time trial title
Men's time trial as it happened
Armstrong repeats 2006 world champs win for USA
Under-23 Men Time Trial
Women's and under-23 men's time trials as they happened
Photos
Men's road race by Graham Watson
Men's time trial gallery by Graham Watson
Women's time trial gallery by Graham Watson
Under-23 men time trial gallery by Graham Watson
Thank you for reading 20 articles this month* Join now for unlimited access
Enjoy your first month for just £1 / $1 / €1
*Read 5 free articles per month without a subscription
Join now for unlimited access
Try first month for just £1 / $1 / €1