Fans give verdict on Tour de France opening week: 'Awesome, unexpected and perfect'
We asked Cycling Weekly readers what they thought of the opening week of third year's Tour de France and they gave their verdict, in association with Decathlon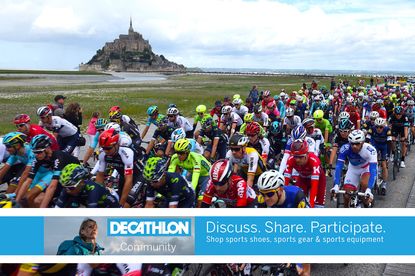 Judging by comments made by Cycling Weekly readers, the opening week of the 2016 Tour de France was one of the best in years, with some hailing it as 'beyond expectation', 'superb' and 'perfect'.
The race started in Normandy before heading south to the Pyrenees. Although the opening week didn't contain any massively high mountains, other factors played their part in making for exciting racing.
While we all know who eventually won overall, it's actually often easy to forget what happened in the first seven or so days of a Grand Tour.
Here we present a selection of Cycling Weekly readers' opinions on the opening week of the Tour de France, in association with Decathlon. We'll be publishing more of your opinions on the rest of the race soon.
What was your verdict on the Tour de France's opening week? let us know in the comment box below.
The defining moment has to be Froome's breakaway and the descent. That was something new, and the way he rode was just surreal. Also the crash injuring Contador, which eventually led to his exit from competition. The finishes of Cavendish, Kittel and Van Avermaet. So many interesting incidences, although I'm a bit disappointed by Quintana's lackadaisical approach up until now.
Shaurav Vishain
Was it up to expectations? No, not at all; it was WAY beyond them. Mark Cavendish and Dan McLay in the sprints with Cav in green; the amazing Steve Cummings doing what he does best, but more so; and Adam Yates climbing with the best, in second place, and in white too. Oh, and the small matter of Froome in yellow. Anyone who expected all that must be from the future and "forecasting" with hindsight!
Nick Taylor
>>> Any bike, any place – which bike would YOU choose and where would you ride?
Olympic years always seem to have more twists, drama and turns because at the end of the race is an event with an even more exclusive invite list than the TDF.
Lisa W
That descent by Froome was quite a sight to behold and more than a bit scary. Dan Martin is the big surprise so far, I hope he can keep it up!
Dermot Lane
Epic victory by Tom Dumoulin. Riding home in the rain and hail! We, the Dutch, know bad weather! Great win by Steve Cummings as well.
Coen Peelen
It's been so good that I'm starting to panic about the hole it's left in my life!
Danny Johnston
Best opening week in many a year. Froome's descending was something else and great to see Cav (and Sagan) in yellow. Has anyone ever been happier than Cav was to pull on the yellow jersey?
Nick Stettner
On what was billed as a flat stage, seeing Chris Froome and Peter Sagan join forces with Geraint Thomas and Maciej Bodnar to attack the entire peloton and stay away into Montpellier was fantastic. After that, and his earlier daredevil descent to win stage eight, it's very hard to say that Froome and Sky are boring.
Chris Cameron
Early crashes, the longest time with no withdrawals, super-close sprint finishes, madcap Froome descent and apocalyptic weather to end. What's not to love!
Dave Doohan
Loved it, British winners everywhere, punches thrown, inflatables taking out riders and motorbikes, then Froome's breakaway whilst his rivals sat up and took on water was superb!
Paul Brierley
Awesome, interesting, unexpected and perfect… if you're a Brit.
Mark Grayson
Thank you for reading 20 articles this month* Join now for unlimited access
Enjoy your first month for just £1 / $1 / €1
*Read 5 free articles per month without a subscription
Join now for unlimited access
Try first month for just £1 / $1 / €1