Five ways to give your club a boost
Ride variety and stylish finery are the spice of UK cycling club life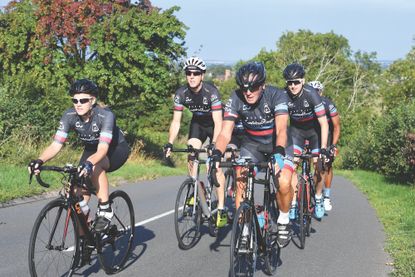 There was a time when every active cyclist was a member of a club, it was the backbone of British cycling. However, times, life and society have changed, and many cyclists want something other than their perception of the traditional club.
Now, while some clubs struggle others are thriving, so we asked three successful clubs what their secrets were.
1 Vary your rides
Not all riders want the same thing from their club rides, so mix it up.
"We've always been a club that have done racing or rides of 80 miles, but that doesn't suit everybody," explained Jill Birch of Otley CC. They have expanded to around 500 members in recent years, and won last year's Cycling Weekly Club of the Year competition.
"You're not going to get many new people joining to do that, so we started our social section. We do 10-15 miles, 15-20 miles and 20-30 miles at the pace of the slowest person.
"We have expanded into other disciplines, we've got a mountain goat section for people who want hills, we do gravel rides, anything to interest more people than just those who want to hack along the road."
2 Get the kids in
Go-Ride sessions come with responsibilities but can transform a club, as Club of the Year finalists Sleaford Wheelers know.
"Five or six years ago we had an ageing population, and our membership was struggling around the 50 or 60 mark and things were stagnating," explained former chairman Denis Owen.
"We decided to get the youth in and develop the Go-Ride. The first session we had 13 or 14 and within a couple of weeks we had 30 or 40 and we still have 30 or 40. Some of their parents have got involved and they started cycling.
"Since then we have been able to develop a ladies section and also a social section."
Since Go-Ride began Sleaford now have an active membership of more than 150.
3 Get online
Cyclists love tech, but clubs should think about more than aerodynamics and disc brakes, as an active social media presence is vital.
"It's definitely a good tool for attracting members," said Muckle CC's Greg Charlton. Having started in 2015 as a home for hard-riding cyclists Muckle now have 100 members.
"We've got an internal Facebook group and more or less 99 per cent of our business goes through that group and we use Instagram quite a lot too. To attract members it's always good to have a good presence on Instagram and Facebook."
4 Hook up with a local bike shop
We all acknowledge how important a local bike shop is to a town and a club, and Otley CC are supporting theirs with a two-way relationship.
"We have a mutually beneficial arrangement with Chevin Cycles in Otley," explained Birch. "We encourage people to go to them and they put on maintenance courses and do exclusive promotions for members, we get 10 per cent discount. They are also the conduit for our club kit.
"We also give them documentation about the club they give out with a new bike."
5 Look good
When Muckle CC formed back in 2015 they wanted a modern kit design members would be proud to wear.
"It stands out from your classic club cycling kit," explained Charlton. "Some clubs' kit isn't great and members wear it because they are a member, not because they particularity like it. We wanted to ensure we had a really smart kit you would want to wear.
"Ours is eye-catching, and as the club started to take off people noticed the gear on the road and that's when we would get enquiries to join the club."
Is your club the best in Britain?
Cycling Weekly Club of the Year Awards, in association with Le Col
Is your cycling club the best in Britain? If you think it is, then we want to hear from you. Along with clothing company Le Col, we're once again looking for the best club in the country.
The ones that set the standard and make a difference week in week out. The winners will be crowned at the 2019 Cycling Weekly Awards in November.
It's not necessarily the biggest club we're looking for, but the one that has a great story to tell.
It could be the club that has brought more newcomers into the sport than any other. Perhaps it's the one that has taken a group of young riders and developed an all-conquering race team.
Or it could be the club that puts on exceptional events or plays a key role in its local community.
Winners in 2018 were the Otley CC, a thriving Yorkshire club who've been enjoying the accolade ever since. "It has been fantastic for the club. Members were so proud and it gave them such a boost," president Liz Hills said. "It helped us refresh our vision this year.
We're determined to uphold our reputation for being as inclusive as possible and offer as many opportunities to get people riding as we can.
"We rely on our volunteers for everything we do, so for them to be recognised was a great way to thank them."
To nominate your club go to po.st/CluboftheYear19 and fill out the form. We only need one entry per club, so please get together with your club- mates and tell us why your club should win.
Thank you for reading 20 articles this month* Join now for unlimited access
Enjoy your first month for just £1 / $1 / €1
*Read 5 free articles per month without a subscription
Join now for unlimited access
Try first month for just £1 / $1 / €1