Nominations extended for Club of the Year in association with Santini
The deadline to nominate your club for 2020 Club of the Year has been extended and the winning club will now receive a money can't buy prize from Santini.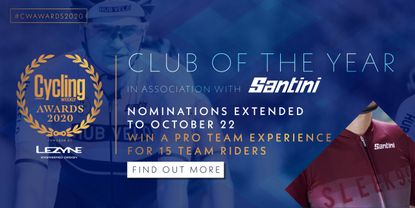 The deadline has been extended for the 2020 Club of the Year in association with Santini until midnight October 22.
On behalf of Santini the winning club will receive a Pro Tour Team experience for 15 team riders including:
Sleek Race kit as worn by Santini's World Pro Tour Teams for 15 members packed in Santini sports bags
Unique FOC Design with Santini head designer
The team Featured in Santini social media and ZF custom campaign
10% discount on all future club kit for 6 months
The prize will be awarded to a club that has set high standards from a sporting or community sense, or through having a strong purpose or mission.
Click here to start your nomination
Clubs are the bedrock of the sport in this country and almost all the country's best riders came through or have been involved in the club scene.
Is your cycling club the best in Britain? If you think it is, then we want to hear from you. We're once again looking for the best club in the country. The ones that set the standard and make a difference week in week out.
International success and big money sponsors may come and go. But as long as people are riding bikes one thing will always remain – cycling clubs. The bedrock of the sport, clubs provide many with their first taste of cycling. From kids riding their first bike to retirees rediscovering their youth, a good club can do as much for future of the sport as can a British Tour winner.
Previous winners of Club of the Year
2019 - Poole Wheelers
"This award means everything," says Graham Hurst, president of Poole Wheelers Cycling Club, following the awards ceremony. "It confirms that we are doing what the members want and we need to keep building on it."
In February 2018, when we rode with the South Dorset-based club as part of our Ride With series, we found a club blessed with abundant route options, with the Purbecks to the west, the New Forest to the east, and the rolling plains of Dorset to the north.
In 18 months, membership has jumped from 190 to over 300 — and more than 100 of those are female. "The women's Monday night ride used to have 20-plus women. Now one of the Sunday intermediate rides has more female than male riders," says Hurst.
Those Monday night women's rides were instrumental in increasing female membership and helping female riders gain confidence. In August the club organised a special mixed two-up club event.
But it's not only women riders who are well catered for. The weekend club run has a range of options, featuring a Saturday social ride, Sunday training ride and a Sunday social ride — all accommodating multiple groups, from beginners to those wanting to improve their speed or climbing. In addition, the club has a diverse range of other activities: an 'evening 10' time trial league; a track night on Mondays in the summer that has seen four youth members progress to the British Cycling Senior Academy; and Tuesday turbo sessions in winter.
For younger members, Poole Wheelers has organised a youth omnium at Bournemouth Velodrome for several years. Due to their continuing popularity, the club hosted its first ever sprint omnium, which was such a success that the organiser has agreed to do the same next year.
One of the most popular activities is the Wednesday night ride. "We can get 70 riders turning up, which is pretty special," says Hurst. "We split into groups, ride for an hour, and then all meet up for coffee."
For the last two years, the club has been in a friendly competition with Bournemouth Jubilee Wheelers, involving four events (two organised by Pooler, two by Bournemouth) whereby riders gain points for their club. "Four local clubs are getting together to organise a round of the Wessex Cycle League," says Hurst. "I want to get the local clubs to work more together."
This community spirit also extends to charities. This year the club's charity is Poole-based AboutFace, helping people affected by head or neck cancers. "We feel it's something we can do for the local community. We enjoy riding our bikes but if we can do something for less fortunate people too then it's a win-win. It's about being a nice person. We've raised about £3,500."
The club's motto is 'lots of people doing a little', and Hurst feels this award is a testament to that. "It has been won by every member equally. Some have lots of free time, some have next to nothing. But they are all proud to be Poole Wheelers. This award needs to be cut up into 317 little bits, as we all do our bit."
2018 - Otley CC
Inclusivity is the key for all the best clubs, but especially for 2018 club of the year, Otley Cycle Club.
"We are dead chuffed," said Otley's press and communications officer, Jill Birch. "It's a huge pat on the back to all the members and volunteers, but it's not going to change what we do, it just validates what we do."
Not only is it home to racing cyclists and former world and national champions like club patron Lizzie Deignan, but Otley has managed to be all things to all cyclists.
Located just north of the West Yorkshire cities of Leeds and Bradford, Otley's position on the edge of the Dales provides members with some of Britain's best cycling country. Indeed records evidence a cycling club in the town dating back to 1890.
First, Otley Road Club provided a home for local riders, but that outfit failed to last the course and the current club was established in January 1927.
Despite their seniority Otley have managed to remain current while simultaneously retaining their original ethos of providing a home for serious competitors and social cyclists alike, and it is the collective that makes the club what it is.
"We do consider the core values and how we evolve," says Birch. "We try to get as many people as possible involved so that it is truly their club. Obviously there's a committee, but there's a huge number of people involved in running all the different things we do."
When they set a ten year plan in 2010 Otley had fewer than 250 members, but but since the Tour de France passed through the town in 2014 it has more than doubled in size. Having a clubhouse helps, but the success in largely due to their holistic approach.
"We organise a race team which started with youth and juniors and now we've developed that into Under 23 as well, so these people are staying with the club," continues Birch
"But we've also developed our social series and they might only ride 15 miles, but that has been the biggest increase in our membership."
Click here to start your nomination
We only need one entry per club, so please get together with your club-mates and tell us why your club should win.
Following the close of nominations at midnight on October 22, the Cycling Weekly judging panel will decide on a shortlist of contenders.
On 05 November, we will announce the shortlisted candidates, sharing their stories in the magazine and online, and the winners will be revealed in our online virtual ceremony on 15 December, with guests joining us from around the world. Start nominating!
Thank you for reading 20 articles this month* Join now for unlimited access
Enjoy your first month for just £1 / $1 / €1
*Read 5 free articles per month without a subscription
Join now for unlimited access
Try first month for just £1 / $1 / €1