Freire takes aim at fourth World Championships title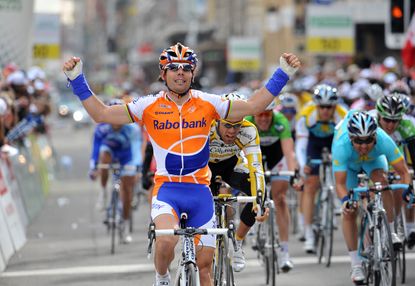 Three times a World Champion winner, first in 1999, again in 2001 and for a third time in 2004, the 34-year-old Freire says he is ready to go all out for a fourth title despite a disappointing Vuelta, his usual build-up race.
"I feel good and it's a good circuit," Freire, 34, told Spanish newspaper El País.
"Some people say it's very hard, but it's not as tough as some of the last few we've had. What will be hard will be to try and make sure it comes down to a bunch sprint as I" - and a certain Mark Cavendish - "would really like."
Freire, if he wins, would move ahead of three other great champions - Van Steenbergen, Merckx and Binda - to become the first rider ever to take the World's four times.
Whilst the Spanish squad did not work well together in Mendrisio last year and fell apart almost completely in Varese in 2008, Freire believes the team he will lead - one of the most powerful of the World's is ready for action this time round.
"I hope everybody concentrates on working for the sprint," Freire said, "although races always change a lot and if somebody loses their concentration [at the wrong moment], there could be a surprise result."
Freire has always said his form at a World's was strongest in 2000, when he finished third behind Romans Vainsteins, but that in any case right now his form is better than it was in Lisbon 2001, where he took his second World's despite being on the backfoot. That said, it's not as good as when he won his third World's, in Verona 2004.
"I wasn't in good shape in the Vuelta, but now I'm feeling a lot better. I've done exactly the training I wanted to, and now it's a question of seeing how my legs respond."
"I think the World's [title] is closer than it has been other years. I can win. The race is what will decide but I'm feeling very motivated."
Asked about how he felt about the relentless succssion of doping scandals, and the most recent case involving Contador in particular, Freire told El Pais, "it's nothing new and even less so that it comes out just before a World Championships."
"I've survived everything that's happened in this sport since it all started in the last decade and I'm sure I've lost a lot as a cyclist. People look at you differently."
"If what has happened hadn't happened, cyclists would be considered great sportsmen, whilst right now we're constantly being questioned."
"People think badly of us cyclists, and, well, I think they're right to."
Thank you for reading 20 articles this month* Join now for unlimited access
Enjoy your first month for just £1 / $1 / €1
*Read 5 free articles per month without a subscription
Join now for unlimited access
Try first month for just £1 / $1 / €1