Froome faces race to be fit for Giro after time trial crash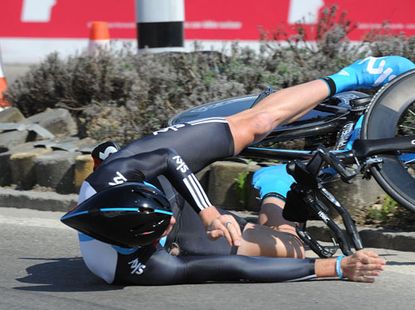 Chris Froome faces a battle to regain full fitness in time for the Giro d'Italia after crashing during the prologue of the Tour of Romandie yesterday.
The Team Sky rider crashed on a difficult corner towards the end of the 4.3-kilometre test in Porrentruy, Switzerland. Froome wasn't the only rider to have a problem there. Six riders took the corner badly and either crashed or had to unclip their foot to get round. Cervélo's Joaquin Novoa Menedez went flying into a hedge.
Froome picked himself up to finish second last on the stage, 1-24 slower than the winner, Marco Pinotti of HTC-Columbia. The crash didn't leave him with any serious injuries, just scrapes and bruises. However, he has been suffering from illness since the weekend and took the decision to head home to Italy to recover, in the hope he can be fit for the Giro d'Italia.
Team Sky's line-up for the first grand tour of the season, which starts in Amsterdam on May 8, will be Bradley Wiggins, Steve Cummings, Morris Possoni, Dario Cioni, Chris Sutton, Greg Henderson, Mat Hayman, Michael Barry and Froome, if he's fit. Ian Stannard, Sylvain Calzati and Lars Petter Nordhaug are on the reserve list.
It's not the first time Froome has come a cropper in a time trial. In the under-23 race at the 2006 World Championships in Salzburg, Froome crashed. He was riding for Kenya then, before he switched to ride for Great Britain in 2008.
Team Sky's race coach Rod Ellingworth said: "Chris is a bit knocked up by the crash but he really wants to ride the Giro. He'll be gutted to miss it so we'll do what we can to help him get fit for it.
"The thing with Froomey is that he's so keen that he compromises himself at times. As a team we try to share the responsibility with the riders. It's not about us telling them what to do and them doing it. But for some of the riders we are fighting a little bit of a barrier because of the culture they are used to.
"For example, Chris woke up on the Saturday before Liège-Bastogne-Liège feeling a little bit rough. In the normal world you'd say 'I don't feel great today' but he didn't say anything and he rode Liège and then he developed a cough.
"Some of the guys are scared, because of the culture they've been in, to say 'I don't feel well'. They worry it'll cost them their place in a race or something. But I guarantee, any rider who's come through the [British Cycling] academy will be up front about things like that. They're encouraged to be honest, not just grin and bear it and make things worse. But you can't change these things overnight.
"Chris has got quite some talent, but he's a rough diamond and he needs a lot of polishing. I've said to him, we all make mistakes but if you don't learn quickly enough, you'll not survive in this sport.
"I had quite a firm word with Chris after the prologue]. I asked him what his goal was for the prologue and he said 'To get through it and build for the coming days'. So I said 'Why did you go through that corner full-on then?' It's his choice. He's the jockey, he can put the brakes on.
"He's a bit smashed up and he's got a cough so the best thing was for him to go home but I didn't make that decision for him. It was good to see him come to that conclusion himself.
"He took a lot of stick from the other lads for crashing because they remember the one at the World's but as Swifty [Ben Swift] said, Chris has got some guts. He went to the Worlds and the Commonwealth Games as a Kenyan on his own. He did everything himself, he even went to the manager's meeting himself because he didn't have a manager."
Team Sky's Greg Henderson was seventh in the Tour of Romandie prologue.
Related links
Pinotti wins Romandie opener
2010 Giro d'Italia coverage in association with Zipvit
Thank you for reading 20 articles this month* Join now for unlimited access
Enjoy your first month for just £1 / $1 / €1
*Read 5 free articles per month without a subscription
Join now for unlimited access
Try first month for just £1 / $1 / €1