FUTURE TRACK STARS: ONES TO WATCH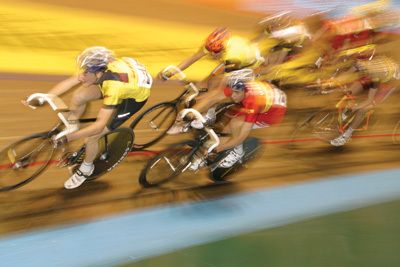 As another season of Revolution commences, we?ll be privileged once again to see some exciting racing from a combination of the very best road and track athletes. A key to the success of the Revolution has been the determination to provide opportunity to riders as well as versatility to spectators. Amongst the world champions and trade team professionals, a selection of promising youths have the chance to perform in front of a capacity crowd.
The Future Stars is now in its fourth year and continues to grow from strength to strength. Previous competitors Ian Stannard, Ben Swift and Andy Tennant have all made the leap to British Cycling?s Olympic Academy, a dream that will be shared by many of the current Future Stars. In further testament to the success of the Future Stars project, Stannard and Swift both recently acquired stagier contracts with professional outfits T-Mobile and Barloworld.
The likes of Rob Hayles, Chris Newton, Geraint Thomas and Magnus Backstedt will all be well accustomed to racing in front of capacity crowds. For the Future Stars, this is a unique opportunity to prove their ability to supporters, team managers and British Cycling coaches.
There are two Future Stars leagues for both boys and girls; each region selects a team and riders race for their region. Riders will accumulate individual points for the overall DHL Future Stars champion title, as well as gaining points for the overall team prize. Each round of the Revolution contains Scratch, Points and One Mile Dash races meaning a strong, versatile team is necessary for success.
The series is always hotly contested and with great rivalry between many of the riders, it?s a chance to show your hard work on the track over the summer months.
The Girl?s league showcases medal winners from the recent National Track Championships, Halesowen rider Jess Booth is the reigning Pursuit champion and is certainly a name to look out for. Corinne Hall is the National Points champion while Laura Trott can also parade a National Championship jersey from the U16 Road Circuit race. Sportcity Velo rider, Katie Fearnehough will be lurking and looking to build on some third places achieved during Revolution 16.
The Boy?s league boasts three members of the very successful Youth Olympics Team. Dan Mclay, Chris Whorral and George Atkins will be looking to impress further and keep within the Great Britain Youth Endurance squad. Sam Harrison of Cwmcarn Paragon RC is the current National Champion in both the Pursuit and Points disciplines and must be looking for victory in the endurance events.
Expect the big names to be at the front of the action but don?t discount lesser-known riders looking for the opportunist win.
16-year-old Wellend Valley CC rider Atkins recently took gold in the Youth Olympics Criterium and is one of the success stories of the Talent Team plan. George is guided by West Midlands Talent Team coach, Jenny Gretton and has also had some impressive results abroad in the Isle of Man Youth tour and the Youth tour of Assen. We caught up with him before the start of Revolution Season five to find out a bit more about the promising youngster.
-------------------------------------------------------------------
One to Watch: George Atkins
George, tell us a bit about yourself.
I?m 16 years old, obviously interested in cycling, my mates, X-Box 360, lion taming and music.
How did you get into cycling?
Through my dad, he took me out for a few rides, I enjoyed it and soon got into time trialling. I was then picked up by the talent team and things progressed from there.
You first participated in the Future Stars last year, how did you find it?
Short and fast! I didn?t do great, I?m more of a longer distance rider, I don?t have that great a track sprint so I prefer races where my endurance kicks in.
What?s your favourite aspect of the Future Stars?
The DHL jerseys, they are stunning.
Do you get a chance to watch the other races in Revolution?
Not really, I try to if I can, it?s hard, but watching the elite Madison is cool.
Who is your inspiration in cycling?
Paolo Bettini or Mikhail Ignatiev, both really impressive riding styles and have accomplished so much.
What do you think your strengths are?
The motor hidden in my saddlebag!
And how do you train and prepare your strengths for the Future Stars?
Last year I did quite a bit of cyclo-cross, road and roller work for the Revolution but this year it will be road, track and rollers; anything with rollers seems to do me good.
How much training do you do a week?
It depends; I try to do as much as I can, normally around 10 hours worth or so. I?m not entirely sure, I do whatever my coach sets me.
If you had a tip you could give to anyone four to five years younger than you, what would it be?
Enjoy it, if you don?t enjoy it you won?t do as well as you could do.
What are your aspirations for the future?
There?s a long list, but to make it to a pro team and ride the Olympics would be great!
How do you think the DHL Future Stars has helped your progression in cycling?
I think it has given me an experience of big crowds and riding with lots of eyes watching you.
Tickets are on sale at www.cyclingrevolution.com or by calling 07005 942 579 or 0161 223 2244.
Thank you for reading 20 articles this month* Join now for unlimited access
Enjoy your first month for just £1 / $1 / €1
*Read 5 free articles per month without a subscription
Join now for unlimited access
Try first month for just £1 / $1 / €1