Gallery: British national 10-mile time trial in photos
There's nothing quite like the National '10'. Photos by Andy Jones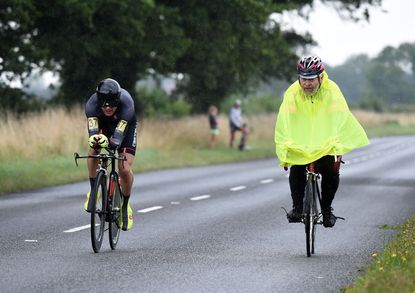 (Image credit: Andy Jones)
The national 10-mile time trial championship has a unique place in British cycling history: the 'race of truth' is the ultimate decider for who is the fastest Brit over the distance.
The set distance of 10 miles is one that hundred, if not thousands, of riders race every week, so the National '10' provides club cyclists up and down the country a benchmark to aspire to.
This year's championships, held on the Warwickshire and Leicestershire border, had a surprise winner in Richard Bussell riding for RST Sport/Aero-Coach, who beat top-seeded contenders Matt Clinton (Mike Vaughan Cycles) and defending champion Matt Bottrill (drag2zero.com).
>>> Richard Bussell beats pre-race favourites to win national 10-mile time trial
Remarkably, it was only postman Bussell's fifth time trial of the year, but the lack of racing obviously did him no harm in the rain-swept race.
The event also benefited from the star presence of England rugby legend and cycling fan Martin Johnson, who was on stage to present the prizes to the winners.
Here we present a selection of exclusive photos taken by Cycling Weekly photographer Andy Jones.
Result
National 10-mile time trial championship 2015
1. Richard Bussell (RST Sport/Aero-Coach) 19.36
2. Matt Clinton (Mike Vaughan Cycles) 19.41
3. Matthew Bottrill (Drag2zero.com) 19.45
4. Edmund Bradbury (NFTO Pro Cycling) 19.50
5. James Boyman (Farnham RC) 20.01
6. Brett Harwood (Terry Wright Cycles RC) 20.04
7. Andy Jackson (Team Swift) 20.05
8. Joshua Williams (Revolutions Racing) 20.08
9. Dan Evans (Team Elite/Paul Bethall Electrical) 20.10
10. Rob Sharland (Paceline RT) 20.11
Thank you for reading 10 articles this month* Join now for unlimited access
Enjoy your first month for just £1 / $1 / €1
*Read 5 free articles per month without a subscription
Join now for unlimited access
Try first month for just £1 / $1 / €1