Richard Bussell beats pre-race favourites to win national 10-mile time trial
Richard Bussell wins the British national 10-mile time trial at his first attempt, as Matt Clinton and Matt Bottrill settle for second and third. Photos by Andy Jones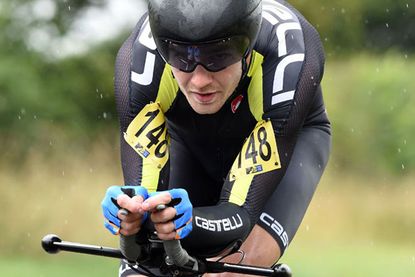 (Image credit: Andy Jones)
Riding in his first national championship, Richard Bussell (RST Sport/Aero-Coach) enjoyed a dream debut as he upset the leading seeds to win the men's 10-mile title in damp conditions at Wolvey.
The Stourbridge 26-year-old started seventh from the end, and covered the unforgiving Cloudesley Bush course, on the Warwickshire and Leicestershire border, in 19.36 before watching all his challengers came up short.
National 25-mile champion Ryan Perry (Langdale Lightweights RT) was five seconds up on Bussell and leading at the halfway point, but his effort was brought to a halt by an unshipped chain which left Matt Clinton (Mike Vaughan Cycles) to take second with 19.41 while defending champion Matt Bottrill (drag2zero.com) was third, four seconds further back.
It was only Bussell's fifth time trial of the season after he suffered a ruptured spleen in an accident in March, and although he had shown his potential with a winning 18.17 on the South Cave course last month, he hadn't expected to win.
"I had six weeks off the bike and I think the rest did me good," said the new champion who, as Bottrill did until this year, works as a postman.
>>> Gallery: British national 10-mile time trial in photos
"I was really motivated today and I thought I would do a good ride, but I'm pretty surprised to have won. I'm into hill climbs and I'm looking forward to that season now."
Said Clinton, who won his first championship 10 medal: "I had shingles earlier in the year which put me back quite a way, and this makes up for the 25 championship when I went off course."
Bottrill conceded that he had done all he could. "The nearer you get to 40, the harder it gets in these short-distance events," he said.
Edmund Bradbury (NFTO Pro Cycling) was the only other rider inside 20 minutes, finishing fourth in 19.50.
Result
National 10-mile time trial championship 2015
1. Richard Bussell (RST Sport/Aero-Coach) 19.36
2. Matt Clinton (Mike Vaughan Cycles) 19.41
3. Matthew Bottrill (Drag2zero.com) 19.45
4. Edmund Bradbury (NFTO Pro Cycling) 19.50
5. James Boyman (Farnham RC) 20.01
6. Brett Harwood (Terry Wright Cycles RC) 20.04
7. Andy Jackson (Team Swift) 20.05
8. Joshua Williams (Revolutions Racing) 20.08
9. Dan Evans (Team Elite/Paul Bethall Electrical) 20.10
10. Rob Sharland (Paceline RT) 20.11
Thank you for reading 5 articles this month* Join now for unlimited access
Enjoy your first month for just £1 / $1 / €1
*Read 5 free articles per month without a subscription
Join now for unlimited access
Try first month for just £1 / $1 / €1