GB TOPS THE MEDAL TABLE AT WORLD DISABILITY CHAMPIONSHIPS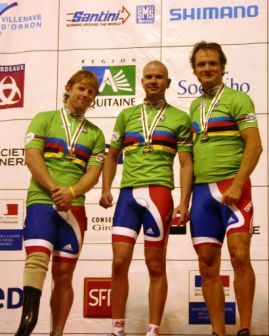 The Great Britain Cycling Team were sipping on some well deserved champagne yesterday evening after topping the medal table at the Disability World track Championships with nine gold, one silver and one bronze.
The road championships that followed brought another three gold medals and one bronze as the British team continued to lead the world in disabled cycling.
The GB team also came away from Bordeaux with five world records from the track competition and sky high confidence with a year to go until the Paralympics in Beijing.
Darren Kenny was once again the star performer, taking gold in the kilometer and the pursuit, beating former Tour de France rider Javier Ochoa in both events. He then went on to finish third in the time trial.
Jody Cundy also returned from Bordeaux with two gold medals. The first coming in the kilometer where the former swimmer did one of the rides of the week to beat the rest of the opposition by over three seconds, "I believe that he and the Australian Michael Gallagher are the two outstanding Paralympic cyclists in the world at the moment." Team manager Dave Mellor said afterwards.
It was the Australian squad that pushed team GB the furthest, often taking silver and bronze behind a British gold. Anthony Kappes and Barney Storey took golds in both the tandem kilometre and sprint, both times beating off two Australian teams.
Aileen McGlynn and Ellen Hunter also became the filling in an Aussie sandwich, standing on the top step of the podium for the women?s tandem kilometer ahead of two Australian teams. The pairing took their second gold in the three kilometer pursuit.
When the competition moved to the road Rachel Morris took over, winning golds in both the time trial and road race for handcyclists. David Stone then successfully defended his world title under a blisteringly hot sun, comfortably beating Helmut Winterleinter of Austria.
British Medals
Gold:
Kilometre tandem: Anthony Kappes, Barney Storey WR
Kilometre tandem: Aileen Mcglynn, Ellen Hunter
Kilometre: Jody Cundy (LC2) WR
Kilometre: Darren Kenny (CP3) WR
3km Pursuit: Darren Kenny (CP3)
Team sprint:Rik Waddon, Mark Bristow, J Cundy (LC 1-4, CP3-4) WR
Mens sprint (tandem): A Kappes, B Storey
Women?s pursuit (tandem) A Mcglynn, E Hunter
Women?s pursuit: Sarah Bailey (LC1) WR
Handcycling Time Trial (B): Rachel Morris
Handcycling Road Race: Rachel Morris
Time Trial, Trikes (CP2): David Stone
Silver:
Kilometre: Rik Waddon (CP3)
Bronze:
500m TT: Sarah Bailey (LC1)
Photo courtesy of British Cycling
Thank you for reading 20 articles this month* Join now for unlimited access
Enjoy your first month for just £1 / $1 / €1
*Read 5 free articles per month without a subscription
Join now for unlimited access
Try first month for just £1 / $1 / €1