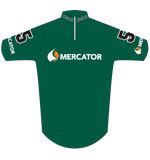 Bradley Wiggins and Mark Cavendish hit the boards of the tight Kuipke track in Ghent tonight.
For the hundreds of British fans who will flock to the Ghent Six as the weekend approaches, Wiggins and Cavendish will be team number 5, wearing green jerseys.
Is it an omen that points towards victory for the British duo? After all, when Wiggins won the Ghent Six in 2003 (with Matthew Gilmore) they were wearing green jerseys.
Tonight?s action starts at 7pm (Belgian time) and before the racing gets underway the field of 26 riders will do a lap of the track in tribute to Spaniard Isaac Galvez, who died in a crash on the final day of last year?s competition.
GHENT 6 TEAMS
1 Bruno Risi & Franco Marvulli (Switzerland)
2 Iljo Keisse (Belgium) & Robert Bartko (Germany)
3 Danny Stam & Robert Slippens (Holland)
4 Petr Lazar & Alois Konkovsky (Czech Republic)
5 Bradley Wiggins & Mark Cavendish (Great Britain)
6 Andreas Beikirch & Erik Mohs (Germany)
7 Dimitri De Fauw (Belgium) & Alexander Aeschbach (Switzerland)
8 Kenny De Ketele (Belgium) & Marco Villa (Italy)
9 Luke Roberts (Australia) & Marc Hester (Denmark)
10 Wim Stroetinga & Matthé Pronk (Holland)
11 Steve Schets & Ingmar Depoortere (Belgium)
12 Nicky Cocquyt & Steven Deneef (Belgium)
13 Tim Mertens (Belgium) & Andreas Muller (Germany)
See Cycling Weekly?s preview of this week?s Ghent Six and Saturday?s Koksijde World Cup cyclo-cross ? a great weekend of Belgian bike racing.
Ghent 6 / Koksijde Cross: A Very Belgian Weekend
Thank you for reading 20 articles this month* Join now for unlimited access
Enjoy your first month for just £1 / $1 / €1
*Read 5 free articles per month without a subscription
Join now for unlimited access
Try first month for just £1 / $1 / €1