Giovanni Battaglin's Giro d'Italia winning 'Tre Cime' Pinarello
How Pinarello found an extra, Giro winning, gear for Giovanni Battaglin. Photos by Chris Catchpole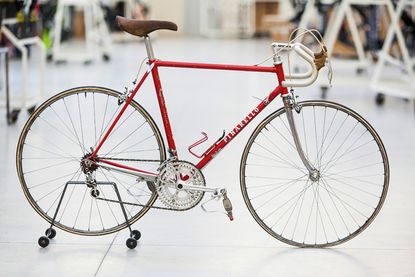 It's not that Pinarello is secretive about its bikes that have been ridden to famous victories — it's just that the Italian company doesn't really know what to do with them.
When an embarrassment of riches such as this goes on display the bikes, which start with founder Giovanni Pinarello's battle-scarred 1951 Bottecchia and go all the way up to Chris Froome's 2013 custom yellow Champs-Elysées Dogma, are drooled over by the cycling world. Then they are quietly returned to their very spartan retirement home — a rail at the back of a mezzanine floor at the factory in Treviso, where they hang like unfashionable suits in a charity shop.
These machines have won epic Grand Tours and Olympics under some of the most legendary riders in the world, but in between their glitzy public engagements they are stored unsentimentally, perhaps even irreverently. Life has come full circle for them and they're back at the factory where they began life.
Nestling somewhere in the first quarter of Pinarello's timeline of success, but interestingly not in its correct place on what you might expect to be a High Fidelity style, chronologically arranged filing system, is Giovanni Battaglin's 1981 Giro d'Italia winning bike. Next to the jelly-mould monocoque of Andrea Collinelli's 1996 Olympic pursuit-winning Parigina or the wavy-tubed Dogma 65.1 of Sir Bradley Wiggins, this plain red bike looks conventional — boring even.
But this machine has a special place in the Italian company's heart; not just because it was the second Pinarello to win the Giro, the home race, but also as it was thanks to Pinarello's intervention that Battaglin was able to win.
Secret weapon
Battaglin had been threatening to break into the big time for his entire career. He won the amateur Giro in 1972, turned professional, and the following year, aged 21, he finished third in the professional version. However, it didn't happen for him until 1981, the year he turned 30.
Battaglin won the 1981 Vuelta a Espana, at the time held in April, then three days later started the Giro. He wasn't expected to win — Giuseppe Saronni was the favourite. However, his form continued to improve and he won stage 19, a super-hard, big dipper through the Dolomites to San Vigilio di Marebbe that included ascents of the Palade and Furcia passes, to put him second on GC.
>>> Retro tech: Brian Robinson's Tour de France stage winning bike
But this was just a warm-up for the tappone, the Giro's queen stage, which finished at the top of Tre Cime di Lavaredo, an appallingly steep and dramatic climb whose last four kilometres average
over 10 per cent. And, although Battaglin had won stage 19, he had not distanced his contenders.
At this point in Battaglin's 1981 Grand Tour campaign, with the likes of Silvano Contini, Giuseppe Saronni and Tommy Prim snapping at his aching heels, his legs might have decided enough was enough.
After all, the Vuelta didn't have a single rest day. But Pinarello had a secret weapon waiting for him: a climbing bike designed especially for the Tre Cime stage equipped with a custom triple chainset that would enable him to spin up the ramp-like final climb, while his overgeared rivals burnt all their matches as they laboured up in pursuit.
In those days every pro rider had his frame custom built for him. Pinarello's own frame-builders and sometimes specially selected contractors — the artisan builders the Veneto region is famous for — hand-made every bike to each rider's measurements.
>>> Retro bike: Chris Walker's 1991 Banana-Falcon
In a far corner of the Pinarello factory is an old grey filing cabinet full of Campagnolo Record chainset boxes containing the geometries for every Pinarello-sponsored team. There's a box in there with 'Inoxpran' scrawled on it in felt-tip pen. Inside it you'll find a card for Giovanni Battaglin's 1981 machine — a diagram of the frame with the angles and measurements handwritten in.
Custom chainset
And here was Pinarello's problem. At the time the only way to achieve an exceptionally low gear was to fit a triple chainset — the step between double chainrings was too limited, and there were only six sprockets to work with.
>>> Icons of cycling: the Rainbow Jersey
Campagnolo did not make a Super Record triple, but the real problem was that a triple chainset increased Q factor — the distance between the pedals — and Pinarello knew that it was crucial to ensure the position of Battaglin's right foot was the same whatever chainset was used. All the measurements on the card in the cupboard had to be adhered to.
So Pinarello's most skilled technician, Elvio Borghetto, was tasked with coming up with a solution.
Borghetto, who still works for Pinarello and who went on to design Miguel Indurain's Espada carbon monocoque bike and who was most recently involved in the Team Sky Dogma F8 remembers: "Originally Battaglin was using a Campagnolo Record groupset, with 13/14/15/17/19/21 sprockets and 53/44 chainrings, 170mm crank. Our mechanic's workshop took a 36-tooth chairing from a Campagnolo Victory groupset. They machined the inside of the original crankset spider making a series of holes at the right bolt circle diameter and flattening the surfaces around the holes for correct matching.
"We also machined a series of stainless steel spacers to assemble the third chainring at the correct distance. The third chainring was assembled using some original Campagnolo longer bolts."
>>> Icons of cycling: Look's revolutionary clipless pedals
The right chainstay was adapted to make space for the inner ring, the Pinarello workshop paired the 36 inner ring with a 24 largest sprocket and there it was — Battaglin had a lower gear than anybody else in the race with no change to the 'stance' of his pedals, and a perfect chainline to go with it.
The bike's legacy
As planned, on the climb to Tre Cime, Battaglin dropped his chain onto his custom inner ring and attacked, spinning away from all his rivals. He finished in third but was well clear of danger men Saronni and Prim, was in the maglia rosa and now only had to defend his lead in the final time trial, which he did. It was still very close — Battaglin won by just 39 seconds. Prim's actual time was less than his — the Italian had only won thanks to time bonuses. Nevertheless, Battaglin had become only the second rider after Eddy Merckx to achieve the Vuelta-Giro double in the same year.
What did Campagnolo make of having its flagship Super Record groupset adapted in this way? It was not the norm and Pinarello had almost certainly not given its fellow Italians notice, for fear of Battaglin's rivals getting hold of a similar set-up.
>>> Icons of cycling: Campagnolo Tool Case
Campagnolo responded by launching an 'official' racing triple while Pinarello marketed a replica 'Tre Cime' bike made from Columbus SL tubing that featured the same equipment used by Battaglin: Campagnolo Super Record groupset, Regina Extra chain and freewheel, San Marco Concor saddle, Cinelli handlebar, Mavic rims and Clement tubular tyres.
Pinarello has gone on to almost unmatched Grand Tour success, including five Tours de France in a row with Miguel Indurain and has most recently equipped Wiggins and Froome, but for Giovanni Battaglin 1981 marked the apex of his career. The following year he broke his collarbone then after contracting hepatitis during the 1984 Giro he retired.
The famous bike — just one was made specifically for the Tre Cime stage only — you'll find hanging pristinely at the back of the factory in Treviso.
This article first appeared in the May 21 issue of Cycling Weekly
Thank you for reading 20 articles this month* Join now for unlimited access
Enjoy your first month for just £1 / $1 / €1
*Read 5 free articles per month without a subscription
Join now for unlimited access
Try first month for just £1 / $1 / €1