Retro bike: Chris Walker's 1991 Banana-Falcon
Banana-Falcon was a British team that made its presence felt in Europe in the Nineties with an array of hard riders — perhaps none more so than Chris Walker, the tough Yorkshireman who bossed the 1991 Milk Race. Photos by Daniel Gould/Cycling Weekly archive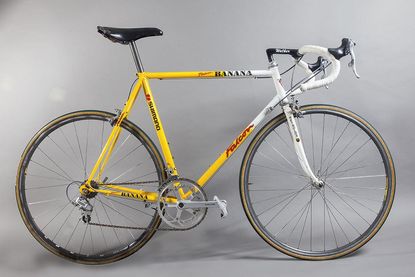 Chris Walker was a big talent who proved he could cut it at what would be UCI WorldTour racing today, but who chose to spend most of his career racing in the UK. The reasons he did so are too complicated to go into here, but are quite eloquently explained by looking at one of the European races he rode in 1991.
Walker won a record four stages in the Settimana Bergamasca in Italy on this bike. He won the points jersey as well as taking second place overall. The winner was Lance Armstrong.
Walker also won the final stage of the Tour of the Vaucluse, a race won by Miguel Indurain. And he won the 1991 Milk Race, leading from start to finish, taking five stages along the way. In 1992 he continued his racing career in the US, with some forays into Europe, and two years later returned to race successfully in the UK until 1999.
Falcon Cycles was established in 1930 in Brigg, North Lincolnshire as a race brand within the Coventry-Eagle group. The company is still going today but no longer produces race bikes; a shame given its pedigree and heritage.
Plight of the Falcon
Falcon frames were good, and the company sponsored British pro teams throughout the 1960s and 1970s. Falcon also satisfied Eddy Merckx's high standards and was allowed to produce Eddy Merckx frames and bikes under licence during the 1970s. However, the frame builders made a mistake with this one, as the man who loaned us the bike for this photo-shoot, Dave Marsh of the Universal Cycle Centre in Maltby, South Yorkshire explains.
"You couldn't reheat and custom bend Reynolds 753 fork blades, so Reynolds made them with a lot of rake and extra length so individual frame builders could combine cutting some off the top with some off the bottom to get the amount of fork rake they wanted.
"Except whoever built Chris's and Rob Holden's frame removed all the extra length from the top of the fork blades, so their bikes ended up with forks that had a lot of rake, two and a half inches, which is what you want on a touring bike, not a race bike.
"Chris took one look at his bike when he was given it at the start of the year and said: 'I can't ride that, it will be like trying to ride a chaise longue.'"
So the team manager, Keith Lambert, contacted me, because he knew we were making our own frames in 753, and Rik Powell, who worked for me and used to be one of the best frame builders at the old Carlton Cycles, made new forks for this bike and some of the others."
So this bike, the bike Chris Walker dominated and won the 1991 Milk Race on, is actually a Falcon-Dave Marsh special — which is a nice touch because when he was a young amateur, Walker raced for Marsh's cycling club, the Dinnington Racing Club, and he had a part-time job in his bike shop, the Universal Cycle Centre in Maltby, Rotherham.
For the enthusiast it's well worth a visit, with this very bike proudly on display for all to see.
Thank you for reading 5 articles this month* Join now for unlimited access
Enjoy your first month for just £1 / $1 / €1
*Read 5 free articles per month without a subscription
Join now for unlimited access
Try first month for just £1 / $1 / €1