GREAT BRITAIN UNTOUCHABLE AT TRACK WORLD CHAMPIONSHIPS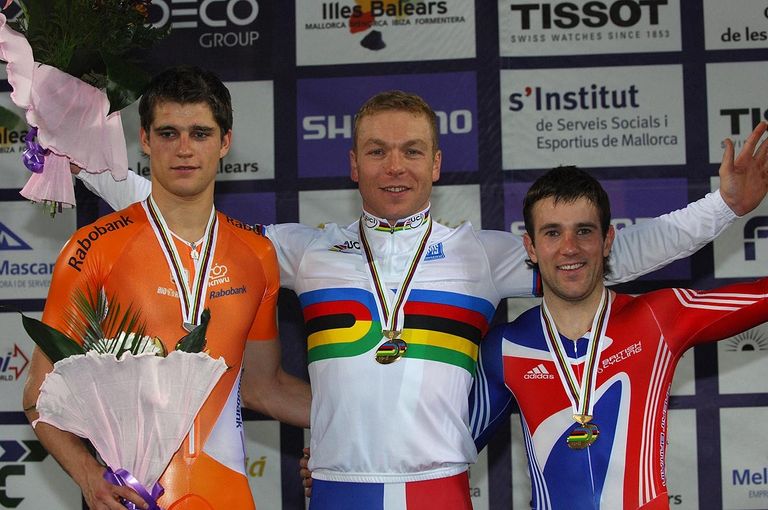 Another day and another two world titles for team GB. After just two days of racing they?ve already surpassed the medal haul they accumulated in Los Angeles two years ago, and no one in Palma believes that?s the end of it.
The team won gold in the team pursuit and, rather unexpectedly, in the men?s keirin. They also took bronze in the keirin and silver in the women?s individual pursuit to beat yesterday?s medal tally.
Rebecca Romero took the team?s first medal of the day with a gutsy ride in the women?s individual pursuit. Her time of 3:33.409 was only good enough for silver, but considering she only took her first tentative steps on a track 12 months ago the achievement represents a quantum leap.
Earlier in the day the former Olympic rower had smashed her personal best by five seconds to get into the final against reigning champ Sarah Hammer of America. Hammer was always in front, but with Romero improving with every race there?s strong hope for a gold medal next year in Manchester.
The men?s team pursuit squad produced an almost faultless ride to take Britain?s third gold of the competition. The quartet of Ed Clancy, Paul Manning, Bradley Wiggins and Geraint Thomas flew round the track in perfect formation to a time of 3:57.468, a new British record, and the second fastest time ever ridden.
It was Wiggins's second title in two days, while for Thomas it was sweet revenge for last year, when, as third man, he let a small gap open up in the final metres which allowed the Australians to snatch victory. This time, Thomas lead the quartet over the line with one arm raised in victory. The Aussies were well off the pace in qualifying despite fielding several experienced riders, and were only good enough for sixth place.
Soon after, Chris Hoy took his first keirin world title from a high quality field, leaving the British coaching staff lost for words. He and Edgar held the first two positions behind the derny, but when it swung off, Mickaël Bourgain of France surged past. Hoy kept his cool and came flying past the Frenchman in the final lap, while Edgar, getting bumped around by Shane Perkins (Australia), held everyone off bar Theo Bos to claim bronze.