Great Britain's Owain Doull left frustrated in U23 road race
Great Britain's Owain Doull had the legs but not the luck in the U23 men's road race at the 2014 road world championships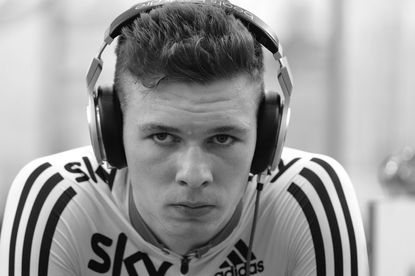 Owain Doull rued bad luck and one moment of hesitation as he left the U23 road race at the world championships empty handed.
Doull was Great Britain's best placed rider in 19th, crossing the line in a small group behind the race winner Sven Erik Bystrøm (Norway), who took off on a solo effort over the final climb and held off the chasing bunch.
"It was a good race for me. I felt real good, but just coming into the finish I placed myself well but I was on the wrong wheel at the wrong time and he [the rider in front] decided to sit up," the 21 year-old Welshman said.
"I was going backwards in the sprint and trying to get back forwards, and just hesitated for that second too long and that cost me the chance of a result."
Doull was the sole remaining British rider at the head of the race after a series of accelerations into the final lap distanced his compatriot, first year U23 Scott Davies.
"I was pretty geed up," Doull added. "You save yourself all day and do the bare minimum to make that front group on the climb. I had good legs but it was just a moment of hesitation.
"The world champs are a big race and you don't get many chances for it to be a good course for you. So to be on a good day as well, that's what makes it more frustrating."
Credit: Graham Watson
Great Britain Academy rider Owain Doull narrowly misses the podium at the U23 Tour of Flanders in Oudenaarde
Track World Cup, Mexico: Owain Doull takes scratch race win as Jason Kenny and Elinor Barker claim silver on second
Thank you for reading 20 articles this month* Join now for unlimited access
Enjoy your first month for just £1 / $1 / €1
*Read 5 free articles per month without a subscription
Join now for unlimited access
Try first month for just £1 / $1 / €1