No growth in journeys made by bike since 1990s, says survey
National Travel Survey concludes that only two per cent of journeys in Britain are made by bike, whilst car trips drop 12 per cent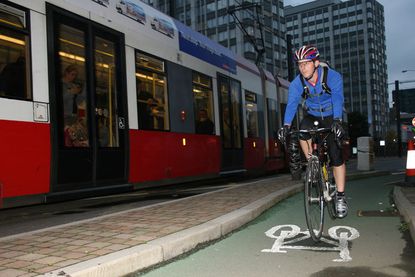 Car trips in England are down by 12% while cycling trips remain stagnant at 2% of journeys since the late 90s according to National Travel Survey (NTS) figures, released today, prompting criticism of the government's cycling policy.
Active travel campaigners say the statistics, which also show walking trips are down by 30% and public transport usage up, indicate the government's road building drive is out of touch.
The CTC points out after the post-Olympic bounce in participation in 2012, cycling has fallen back to 2011 levels, with fewer but longer cycling trips than the 1995/97 survey.
CTC's Senior Policy Coordinator, Chris Peck, said: "The gradual decline in trips made by bike, off-set partly by increasing trip lengths, shows that England's cycling policy is failing: we're managing to get middle-aged men back on their bikes, but we're not creating the conditions to allow their children, or grandchildren to be able to cycle safely."
The NTS, which surveyed just over 16,000 people this year, shows in 2013 18% of all car trips were less than one mile in length, and 67% less than five miles, journeys which could arguably be made by bike. Peck adds people are making fewer commuting trips by bike and more leisure trips. He says lack of adequate funding for cycling and poor road conditions contribute to the decline.
Policy Director for sustainable transport charity Sustrans, Jason Torrance, said: "People are making fewer car trips than ever before but road building is on the increase, proving the government's transport agenda is completely out of touch.
"With the average trip just seven miles the bike provides the perfect alternative to driving, but government must provide dedicated local investment in cycling that transforms our roads and makes it possible for people to choose alternatives to the car."
"The £24bn allocated to road building and improvements up to 2021 towers over investment to improve walking, cycling and public transport options in local communities, but yet of the lowest income households 48% do not have access to a car."
The NTS measures the number and length of trips made, with a trip defined as a one-way journey. Overall travel figures are down, the greatest contribution being a fall in the number of shopping and commuting trips, and visits to friends.
Heavy Goods Vehicles without side guards and safety mirrors to be banned from capital as early as next year
Thank you for reading 20 articles this month* Join now for unlimited access
Enjoy your first month for just £1 / $1 / €1
*Read 5 free articles per month without a subscription
Join now for unlimited access
Try first month for just £1 / $1 / €1