Half of London's commuting bikes are not road worthy, claims mobile repair service
Mobile repairers NipNip launches a collection service that will pick up your bike and fix it within central London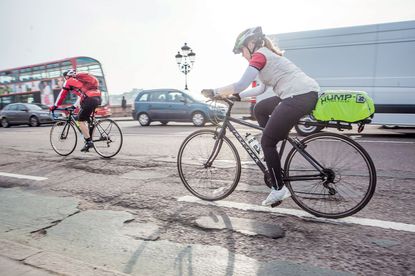 NipNip, a company that provides mobile bike repairs in London, claims a study has shown that 50 per cent of bikes used for commuting in the capital are not road worthy.
With over 200,000 Londoners choosing to commute into the city by bike, NipNip says at least 100,000 of them are unsafe, with the vast majority not being at their best.
The survey coincides with the launch of NipNip Collect, a service that will pick up, fix and return your bike to you anywhere within the capital's Zone 1 area.
>>> Just nine per cent of British commuters choose to cycle to work, survey says
"Every day we attend to bicycles with serious issues. Just yesterday, we serviced a bicycle with dangerously loose nuts on the front fork, which meant the cycle had a high risk of losing its front tyre and could have resulted in an 'over the handle bars' calamity for the rider. Worryingly, the bicycle had been ridden nine miles in to work that very morning," said Matthew Farr, co-founder & director of NipNip.
"Cycling in London is a popular way of travelling for people of all ages, for both work and play. It has boomed in recent years, with over 200,000 London City residents cycling to work each day.
"Our study showed over 50% of the cycles we saw would not have passed the equivalent of an MOT - if there was one. Based on these figures, it indicates that at least 100,000 cycles being used for commuting purposes are unsafe, giving riders many potential problems."
>>> London's new East-West Cycle Superhighway expected to open on April 30
NipNip was formed in 2013, providing mobile bike repairs in the city as well as running a servicing hub near Southwark.
Online retailer Wiggle also recently launched a collection service, picking up and returning bikes within the M25, run by HaveBike.
Thank you for reading 20 articles this month* Join now for unlimited access
Enjoy your first month for just £1 / $1 / €1
*Read 5 free articles per month without a subscription
Join now for unlimited access
Try first month for just £1 / $1 / €1