Wiggle will now collect your bike and service it if you live inside the M25
Wiggle is piloting its new range of bike service offerings to London-based cyclists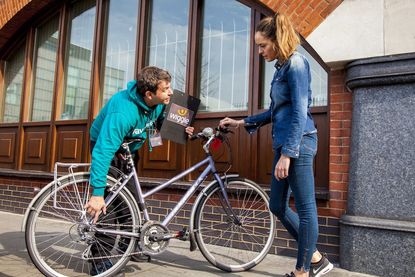 Wiggle has just launched a new Service and Repair offering, which it is piloting to customers within the M25.
To arrange a bike service, you book on-line at www.wigglebikeservice.com. The booking app is available 24x7, with the customer specifying the address and time for collection. Return can be to the same address or a different one within the M25, again at a time of the customer's choosing. Collection and return are available seven days a week, with a standard turn-around in three days.
Watch: secrets of the toolbox - Tinkoff Team
One-off service options
Wiggle offers three levels of service, with a Regular service priced at £70, but until the end of June it's reduced to £55. For this, it will safety check the bike, true up the wheels and adjust the hubs, adjust the gears and realign the mech hanger, degrease and relube the drivetrain, inspect the tyres, adjust the bottom bracket and headset and polish the frame. For all levels of service, there's an extra charge for parts and any additional labour, such as spoke replacement and fitting a new cassette.
Next up the menu, a Deluxe service adds removal and deep cleaning of the drivetrain and derailleurs, brake calipers and wheels, followed by relubrication with anti-seize grease. A Deluxe service usually costs £90, currently discounted to £70.
>>> Mobile repair service claims that half of London's commuting bikes are not road-worthy
Finally for £150, Wiggle will strip, clean and regrease your hubs, headset and bottom bracket. It will also replace gear and brake cables and thoroughly clean and anti-corrosion treat the frame. This service is currently discounted to £120.
Annual service plans
As well as its single service options, Wiggle is offering 12-month service plans. For £127 the Essential plan will provide two Regular services at dates which suit you, while for £180 the Performance service plan offers one Regular and one Super Deluxe service over a 12-month period.
>>> Dr Hutch the trials and triumphs of home bike maintenance
Wiggle is piloting the service in partnership with havebike, which already provides bike servicing to London's Fire, Police and Ambulance services. Trialling the new service, we were particularly impressed by the efficiency of the collection and return processes, with Wiggle contacting us in advance to confirm its van was on its way and arriving promptly at the time specified.
The overall quality of the work done looks excellent too, with Wiggle aiming to return the bike to the customer both looking and riding better.
Thank you for reading 20 articles this month* Join now for unlimited access
Enjoy your first month for just £1 / $1 / €1
*Read 5 free articles per month without a subscription
Join now for unlimited access
Try first month for just £1 / $1 / €1