Halfords accused of sexism after describing women's bike as great for 'cycling to Auntie Doris's'
Surely we're past this by now...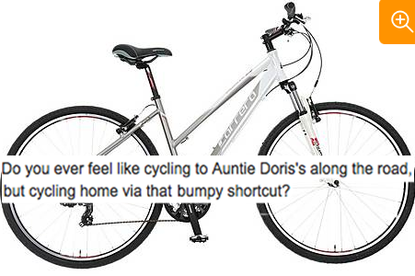 Halfords has stirred up controversy by describing a women's hybrid bike as great for "cycling to Auntie Doris's".
The advert for the Carrera Crossfire 1 hybrid (opens in new tab) says: "Do you ever feel like cycling to Auntie Doris's along the road, but cycling home via that bumpy shortcut? Well, on the Carrera Crossfire 1 Women's Hybrid Bike 2015, that's no problem!
The cycling retailer has been branded as sexist by social media commentators as the description for the men's version of the bike (opens in new tab) simply reads: "The Carrera Crossfire 1 Men's Hybrid Bike 2015 is great whether you're biking on tarmac or trail riding."
The women's bike is also described as "ideal for those who like to mix it up a bit" while the men's bike apparently "allows you to breeze right by for hours of biking bliss."
This is not the first time that bike descriptions have stirred up controversy after mountain bike brand Superior claimed women "do not generally need to push their limits."
In response to the accusations, Halfords told Cycling Weekly: "We have changed the product description and this will go live first thing tomorrow morning. We have listened to the feedback and said good-bye to Auntie Doris."
The original product description didn't go down too well on social media. Here are some of the best reactions:
1. Katharine was the first to spot the blunder and she immediately attacked Halfords with this scathing tweet.
2. Charlie Brown chucks in a few more gender stereotypes for good measure
3. A pretty damning assessment from engineer Holly
4. Looks like Halfords won't be getting any more of Jay Goulden's business
5. Chris still thinks Halfords is stuck in the time of the Suffragettes
Thank you for reading 10 articles this month* Join now for unlimited access
Enjoy your first month for just £1 / $1 / €1
*Read 5 free articles per month without a subscription
Join now for unlimited access
Try first month for just £1 / $1 / €1