Halfords notch up another Tour Series win in Southport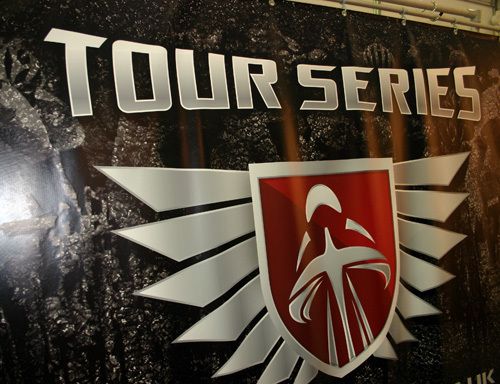 Halfords Bikehut made it three wins out of three in the Tour Series as Ed Clancy eclipsed Tony Gibb (Madison.co.uk) and Chris Newton (Rapha-Condor) to win round six in Southport.
After teammates Ian Wilkinson and Rob Hayles both triumphed in rounds four and five of the series, this latest win represents a thorough turnaround in the team's fortunes after a disaster strewn opening couple of rounds which saw Clancy walking along the finishing straight in Milton Keynes with a snapped chain.
In a mirror image of Tuesday night's stage in Blackpool, a four-man break got away containing riders from all of the top four teams.
This time though in the closing 10 minutes of the race, as Chris Newton stepped up the pace, Candi TV's Graham Briggs blew up, fell off the pace and was swiftly swallowed up and passed by the bunch. That left Clancy then to power past Gibb and Newton in the final 50 metres.
Behind those three, Halfords also managed to place three riders in the first four of the main field. They take their third consecutive team win, which catapults them from fourth into second place, just one point behind Candi TV.
Candi TV's Russell Downing admitted, "They got it spot on tonight". Whilst Rob Hayles could scarcely contain his glee, "We asked big questions of [Candi TV] tonight, and in the end, we cracked them", he told Cycling Weekly.
Highlights of round six of the series can be seen on Friday night at 7pm on ITV4.
Individual results, Round Six, Southport
1. Ed Clancy Halfords Bikehut
2. Tony Gibb Madison.co.uk
3. Chris Newton Rapha Condor
4. Rob Hayles Halfords Bikehut
5. Russell Downing CandiTV Marshalls Pasta
6. Ian Bibby Halfords Bikehut
7. Ian Wilkinson Halfords Bikehut
8. John Mozely Madison.co.uk
9. Tom Barras Madison.co.uk
10. Dean Downing Rapha Condor
Team results
1. Halfords Bikehut
2. Madison.co.uk
3. CandiTV Marshalls Pasta
4. Rapha Condor
5. Team Corley Cycles
6. Sports Beans
7. Sigma Sport
8. Endura Racing
9. www.cyclingbargains.com 10. BMC UK Racing Team
Team standings after round six
1. CandiTV Marshalls Pasta 56 points
2. Halfords Bikehut 55 points
3. Madison.co.uk 55 points
4. Rapha Condor 51 points
5. Sigma Sport 32 points
6. Sports Beans 29 points
7. Team Corley Cycles 25 points
8. Endura Racing 16 points
9. www.cyclingbargains.com 15 points
10. BMC UK Racing Team 14 points
RELATED LINKS
Hayles defies Downings in Blackpool
Wilko wins in Peterborough
Downing claims second Tour Series win in Woking
Tour Series, Exeter - photo gallery by Paul Watson
Dean Downing wins in Exeter
Briggs wins first round of Tour Series
Cycling Weekly British team profiles
Premier Calendar
EXTERNAL LINKS
Tour Series: www.tourseries.co.uk