Hammond blasts to fourth in Paris-Roubaix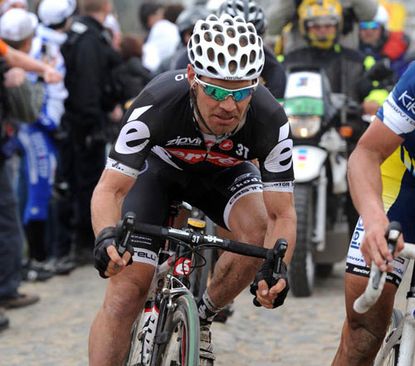 A strong collective performance for the Cervélo team saw Roger Hammond take fourth, both his and Britain's best Paris-Roubaix result since he took third in 2004. Following his seventh place in Flanders, Roubaix pulled down the curtain on Hammond's best all-Classics campaign since his breakthrough year in 2004.
But that was far from being all for Cervelo in this year's Paris-Roubaix. With Thor Hushovd in second, and Hammond in fourth, the Swiss squad were easily the strongest team collectively, whilst Jeremy Hunt was one of the leading riders in the early break - proved by his 18th place at the finish, not to mention spearheading the race out of the notoriously difficult Arenberg Forest section.
After Hunt had helped make the running early on, Hammond and Thor Hushovd waited for the crucial last 80 kilometres to show their hands.
Having made two attacks before Cancellara went away, Hammond was then highly active in the chase group behind the Swiss rider and then attacked before the Carrefour D'Arbre again - which led to Hushovd breaking away with Flecha.
Whilst Cancellara was unbeatable, Cervelo's Roubaix haul was capped by Hushovd in second and Hammond in fourth, outsprinting no less a figure than Tom Boonen in the velodrome.
Still one of just three Britons to have finished in the top five of Paris-Roubaix, Hammond said seventh place in Flanders showed he knew he was in good shape, but he didn't want to be over-confident like in 2009.
"I knew the form was there like it was last year, but last year I came into Roubaix feeling cocky and I paid a really high price," Hammond told Cycling Weekly.
"It was a good lesson, and I made sure i was in the front at the right times. It's nice to get a good result."
Roger Hammond wins the sprint for fourth against Tom Boonen
"With the two of us in the group there was no point in waiting until the Carrefour D'Arbre, I started lighting things up a bit early."
"I wasn't confident of following Cancellara, and I wanted to pre-empt his move, but I didn't realise that he would go with 50 kilometres left to race."
"I went a couple of times 60 or 70 kilometres out to try and get a group of the lesser favourites together, but I turned round and one time Boonen was chasing me and another time Flecha and another time Cancellara. So I figured it wasn't going anyway."
"I then played the second part of the game, which was to set the guys up for Thor and I carried on attacking and paid a little price for it, but that helped get Thor into second place."
Hunt was also satisfied following an illness-plagued first half of the season in which he had only really shone in Kuurne-Brussels-Kuurne.
"It was really awesome," Hunt told Cycling Weekly, "I was the best guy in the break and I was there til the end."
"Cancellara was on a different planet, but we still got a great result."
Related links
Unstoppable Cancelllara wins Paris-Roubaix
Thank you for reading 20 articles this month* Join now for unlimited access
Enjoy your first month for just £1 / $1 / €1
*Read 5 free articles per month without a subscription
Join now for unlimited access
Try first month for just £1 / $1 / €1