Hannah Barnes: hungry for success
Injury has only whetted the sprinter's appetite for more glory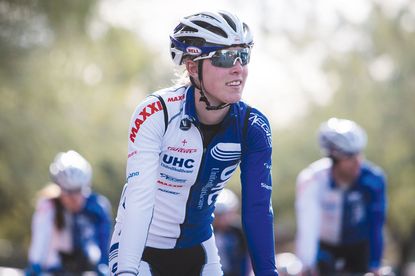 How did Hannah Barnes react to her season-ending crash last August that resulted in a broken ankle and missing out on helping Lizzie Armitstead's successful bid for glory at the following month's road World Championships?
"At first, I was laughing about it," she tells Cycling Weekly, raising a smile. "It took a couple of days before I got upset about it."
This immediate reaction may suggest nonchalance from the 22-year-old Briton, but don't be fooled by it. Those who know her will paint a different picture of the three-time British circuit race champion.
"Hannah is so hungry, I can see there's a fire burning in her," said Ronny Lauke, boss of the Canyon-SRAM squad for whom Barnes has signed to ride for in 2016.
"I'm pretty demanding as a sports director, but when riders start being a cyclist only for the lifestyle, that's what I don't like.
"Of course Hannah [hasn't reached her peak yet], so I hope we can make that fire inside her bigger."
Ones to watch this season
Barnes's move from the American UnitedHealthcare team, for whom she rode in 2014 and 2015, to the German-registered Canyon-SRAM outfit has seemingly provided plenty of motivation
in itself.
>>> The colourful new Canyon-SRAM kit might be the best new kit of 2016
Formed out of the now defunct Velocio-SRAM squad, the fourth best women's team in 2015 according to the UCI's rankings and winners of every World Team Time Trial Championships since the event's inauguration three years ago, the Briton will get to continue her development on an increasingly competitive European scene.
"It's nice to have a new challenge of racing in Europe," she added. "If missing the end of last season wasn't big enough motivation for me, being a part of this team, with the riders, staff and sponsors on board means I can't wait to start my season."
Surprised
Barnes's enthusiasm is understandable as, despite being curtailed through injury, 2015 was the best season of her career to date.
For the second time in three years, she was the first Briton to win a UCI-ranked road race — the GP San Luis Femenino one-day event on January 10.
More notable was her victory on the final day of the Women's Tour into Hemel Hempstead. So tough was the parcours that organisers were shocked the stage ended in a bunch sprint; Barnes was fifth on the road with 50 metres remaining, but impressively timed her acceleration to claim victory on the line.
"I think I surprised myself and a few people winning that Women's Tour stage," she explained. "I think that's the best win of my career to date. It meant a lot to me, showing I could win a race like that.
"I've seen lots of comments that I 'can do crits but maybe not road races' but that day I was able to climb and still sprinted well at the end. It was hard for me to believe I'd won afterwards; it was great to prove I could win races like that."
Barnes admits improving her climbing further, while not sacrificing her sprint speed, is a big objective for 2016.
After all, if she wants to make up for not being able to assist Armitstead at last September's World Championships, ensuring she can cope with the undulating course at next August's Olympic road race in Rio and support her fellow Brit isn't a bad place to start.
Know your ride signalling etiquette
"I can't set early-season goals because of my injury," said Barnes, who was still using crutches when CW met her at the end of November. "So time-wise, the Olympic road race is perfect.
"I felt like I missed out on the Worlds — I went to Richmond anyway and I got to celebrate with the girls afterwards, but it was tough. I started watching the race on the TV screens in the hotel lobby, but I couldn't do it, so I went for lunch and just watched the last lap.
"That experience makes being on form for Rio even more of a goal for me."
And if any confirmation of Barnes's commitment was needed, she added: "I felt like I was on good form for Richmond: I'd been at altitude for a month prior to my crash. I think that's what I was most annoyed with: all that time and hard work, wasted!"
Thank you for reading 10 articles this month* Join now for unlimited access
Enjoy your first month for just £1 / $1 / €1
*Read 5 free articles per month without a subscription
Join now for unlimited access
Try first month for just £1 / $1 / €1
Nick Bull is an NCTJ qualified journalist who has written for a range of titles, as well as being a freelance writer at Beat Media Group, which provides reports for the PA Media wire which is circulated to the likes of the BBC and Eurosport. His work at Cycling Weekly predominantly dealt with professional cycling, and he now holds a role as PR & Digital Manager at SweetSpot Group, which organises the Tour of Britain.