House rules the roost in Richmond GP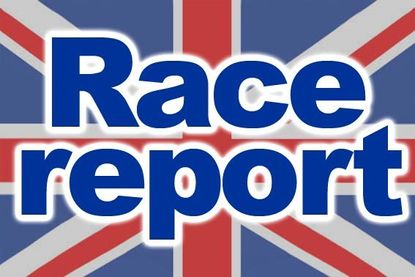 Rapha Condor Sharp underlined their strength and tactical ability at the Richmond GP today, winning the race with Kristian House and securing second and fourth positions at the top of the leader board.
The former British National Champion, riding for Rapha Condor Sharp, led home team mate Dan Craven in second and Johnny McEvoy (Motorpoint Marshalls Pasta) in third in a thrilling race on a highly selective course which frequently left the field splintered across the Yorkshire Dales.
Chris Newton, who had already won the season-long Premier Calendar points competition claimed fourth place in the 86 mile race and rounded off an excellent day's work for the Rapha Condor Sharp squad.
The day's action began when a three man break containing Evan Oliphant (Endura Racing), Dan Craven and Johnny McEvoy went clear on the rolling terrain after the rain-swept climb of Butter Tubs, which hit a maximum gradient of 25 per cent.
The trio's lead over the peloton went out to a minute and a half before the main bunch began pegging it back.
When seven riders - including House and Newton - broke off the front, the three leaders dug in to protect their lead. But the pace proved too high for Oliphant who fell back to join the chasers.
On the final ascent of Waithwith Bank, which was tackled three times on a short circuit, Craven attempted to dislodge McEvoy with a series of attacks, but the youngster held on.
Meanwhile, back in the chasing group, House sensed an opportunity to bridge over to the two leaders. As soon as he made contact, the Rapha Condor Sharp riders were able to work McEvoy over in the closing kilometres.
Speaking afterwards, House said: "When I reached them I attacked immediately and got twenty or thirty metres but McEvoy gradually clawed it back and then Dan went. Basically we worked him over, and there were a couple of rises in the road where I dug in and the elastic eventually snapped."
House hit the final cobbled climb to the finish in Richmond Town centre with plenty of time to prepare for the victory.
"It's been a great day for the team to get first, second and fourth," he added.
RESULT

Richmond Grand Prix 2010

1. Kristian House (Rapha Condor Sharp)
2. Dan Craven (Rapha Condor Sharp)
3. Johnny McEvoy (Motorpoint Marshalls Pasta)
4. Chris Newton (Rapha Condor Sharp)
5. Dave Clarke (Pendragon Le Col Colnago)
6. Marcin Bialoblocki (Wilier Big Maggies Prendas)
7. Dan Fleeman (Raleigh)
8. Alex Coutts (Giant Racing)
9. Rob Partridge (Endura Racing)
10. Evan Oliphant (Endura Racing)
British Cycling Premier Calendar 2010 overall

1. Chris Newton (Rapha Condor Sharp)
Related links
Richmond Grand Prix 2010: The Big Preview
British race calendar 2010: Road, crits and TTs
Thank you for reading 20 articles this month* Join now for unlimited access
Enjoy your first month for just £1 / $1 / €1
*Read 5 free articles per month without a subscription
Join now for unlimited access
Try first month for just £1 / $1 / €1