How to fuel for long distance rides
What you eat and drink before, during and after a big ride is the key to success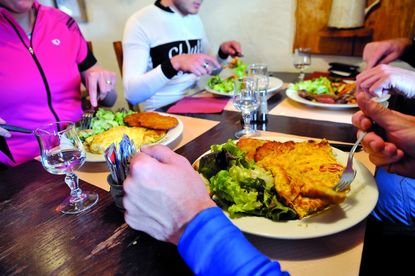 If you're staring down the barrel of a five-hour ride this year, you'll need to know how to get round the route with your energy stores intact. Matt Hart of Torq Fitness (www.torqfitness.co.uk) gives us the lowdown on how to fuel your sportive so you get to the finish line with pep to spare.
Watch: five breakfasts before you ride
Your fuelling strategy should be put into action before you start riding, as Hart explains: "You need to start your ride with full glycogen [carbohydrate] stores, so something like pasta, rice or potatoes for dinner the night before is good.
"Make sure you eat your breakfast around 90 minutes before the event, and go for something like porridge, for slow release energy. Whatever you eat, make sure it's low-fat; a full English breakfast will delay the absorption of fuel on the ride."
>>> The importance of power-to-weight, and how to improve yours
The idea is to look after your carb stores, says Hart. "When they are used up, your performance crashes. The more you can eat whilst you ride, the less of your stores you're going to use. It's as simple as that."
The essentials
Keep your carb stores intact
Know what's in your bottle
Take on 60g of carbs per hour
Don't neglect recovery
But there's a limit to what you can store and process as you ride: "Carbohydrate is held in limited supply within your muscles and liver as glycogen, and while you have it stored in your body, you feel good. You store about 2,000kcal of carbohydrate in the form of glycogen.
"The more external [exogenous] carbohydrate you can absorb per hour, the less of your glycogen stores you'll use. But there is a limit of about 60 grams per hour that your body can absorb, so don't overdo it," says Hart.
>>> Refuel with real food after cycling
How you choose to get those 60g of carbs is largely down to personal taste — two or three gels, or even pastries if you prefer real food, will do it. But, says Hart: "Remember to consume both fluid and carbohydrate calories. In cooler weather, drink less and eat more, and in hotter weather, drink your calories and use fewer bars and gels. Electrolyte tablets are not a source of energy, only hydration, so they will not look after your glycogen stores. If you use these, you must eat a lot."
>>> Top 10 time saving nutrition tricks
Protein recovery drinks are also your friend, before and after a race, especially during training as they aid quicker recovery and "you'll feel fitter when it comes to the day of the sportive," says Hart.
"But don't forget to celebrate by eating and drinking whatever you want afterwards. You've earned it!"
Key points
Electrolyte drinks will keep you hydrated, but don't have any benefit for your glycogen stores. Make sure you're taking on plenty of additional food if you're using these in your drinks bottle.
Porridge makes a perfect pre-ride breakfast because it contains slow-release (low glycaemic index) carbohydrates. Make sure you start eating as soon as you start your sportive, though.
If you're taking part in a sportive during spring, chances are it's going to be a bit chilly. In this case, you'll need to eat your 60g per hour, but less emphasis is placed on hydration, as you're likely to lose fewer essential nutrients because you will sweat less.
Protein drinks will not only help to deliver more carbs, but more importantly will kick-start your recovery by helping to repair muscle fibre that's inevitably in need of assistance after an all-day ride.
Aim to take on 60g of carbs for every hour you ride. This can be in the form of a drink and two gels (check the packaging for nutritional information), a couple of small pastries, or even an energy bar.
Don't experiment with nutrition on the day of the event. Make sure you've used the same products or foods in training so you know your body can digest them and agrees with them.
Words by Marc Abbott
This article first appeared in the April 2 issue of Cycling Weekly
Thank you for reading 5 articles this month* Join now for unlimited access
Enjoy your first month for just £1 / $1 / €1
*Read 5 free articles per month without a subscription
Join now for unlimited access
Try first month for just £1 / $1 / €1