HOY AND PENDLETON COMPLETE SPRINT CLEAN SWEEP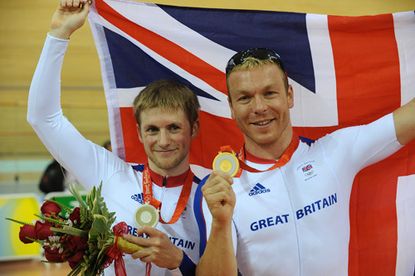 Chris Hoy and Victoria Pendleton completed a clean sweep of the sprint titles here in Laoshan on the final day of track racing, each winning their sprint competitions.
Hoy?s win wrote the Scotsman in to the sporting record books as he became the first Briton in 100 years to win three golds in one Olympics. He added the sprint competition to his team sprint and Keirin titles when he beat team-mate Jason Kenny 2-0 in the final.
Kenny had offered Hoy some fierce competition in both legs of the final, which is more than can be said for any other sprinter in this competition.
Check out Cycling Weekly's images from the final day on the track>>
Kenny was forced to lead out both sprints, and in the first Hoy only just came past the 20-year-old from Bolton. British Cycling?s sprint coach Jan Van Eijden, the tactical mastermind who has helped Britain?s sprinters become world beaters, had been ordered not to give either rider any advice, leaving them to figure it out for themselves.
With a greater top end speed, but not necessarily more match sprint experience, it was always Hoy with the advantage. The Scot has not once been beaten during these Olympics. He was in the fastest Team Sprint trio in each of their three rides (as was Kenny), won all his Keirin rounds and then qualified fastest in the sprint before beating every rider who dared get on the track with him.
It was a stunning set of rides set over five gruelling days for the Scot whose emotions finally got the better of him once it was all over.
Pendleton fulfils potential
Having contemplated giving up the sport after her nightmare in Athens, Victoria Pendleton was equally dominant in the women?s sprint. The 27-year-old from Hitchin in Hertfordshire set an Olympic record in qualifying and was never really challenged in any of her matches.
No other female sprinter has progressed at the same rate as Pendleton, and all her former foes have faded in her wake. Worlds silver medallist Simona Krupeckaite was so intimidated by Pendleton?s prowess that she was panicked in to starting her quarter-final sprints against the Brit almost from the gun.
It was a tactic doomed to failure as Pendleton has always had the edge when it comes to top end speed and duly beat the Lithuanian by several bike lengths.
Pendleton said afterwards that her transformation was in large part to the team?s psychiatrist Steve Peters. Dave Brailsford has often referred to Peters simply as ?a genius? as he has worked wonders with many of the British riders, and indeed the staff, helping them focus on nothing but the task in hand.
The task now in hand would seem to be having a massive party, and that?s not something you need a psychiatrist for.
Swipe to scroll horizontally
OLYMPIC GAMES 2008: TRACK
Preview: Day five at the Laoshan
Brad on Cav: He's like a schoolkid he's so up for it
Day four as it happened: Team pursuit gold and another world record
Day three summary: Gold for Romero. Pendleton, Hoy in charge in sprints. Kenny the revelation
From rower to cyclist: Romero takes an emotional gold
Brits smash world team pursuit record in round one
Tough day for the Dutch
Preview: Monday at the Laoshan
Day two in pictures
Sunday's action as it happened
Preview: Sunday at the Laoshan
Day two at the track: Summary of the action
Hoy and Edgar clean up in the Keirin
Wiggins gets pursuit gold, Burke wins bronze
Newton storms to bronze in points race
Saturday's action as it happened: Two gold, a silver and two bronze for Britain
Blog: Life in Laoshan
Day one in pictures
Brits blast to team sprint gold
Day one at the track: Summary of the action
Friday's action as it happened: Gold for team sprint trio; Wiggins, Houvenaghel and Romero well in control
Burke blasts to new individual pursuit PB
British track stars raring to go
What makes the Laoshan such a challenge
Picture special: CW takes you inside the Laoshan velodrome
Saturday's preview
Friday's preview
Can these legs make an Olympic champion?
Cavendish unlikely to ride individual pursuit
How many medals will Britain's riders win?
Swipe to scroll horizontally
Positive test for cyclist at Olympic Games
Bettini chasing second Olympic gold
Romero poses nude for ad
British quartet eyeing new world record
As Olympics approach two new drugs emerge
Beijing Blog
Beijing Blog 2
Beijing Blog 3
Swipe to scroll horizontally
Picture special: Women's time trial
Cancellara wins men's time trial gold
Men's time trial reaction: Steve Cummings on his ride
Women's time trial reaction: I feel fantastic, says Pooley
Pooley wins silver in women's time trial
Cooke's secret was the skinsuit
What the papers say... about Nicole Cooke
Analysis: women's road race
Gold for Nicole Cooke in Women?s road race
Reaction: It?s a dream to win Gold, says Cooke
Women's Olympic road race picture special
Sanchez gives Spain gold in thrilling men?s road race
Who is Samuel Sanchez?
Tactical analysis: Reading the men?s Olympic road race
British riders suffer in hot and humid Olympic road race
Rebellin misses out on golden birthday
Brailsford confident ahead of women?s road race
Swipe to scroll horizontally
OLYMPIC GAMES 2008: GUIDE
Olympics cycling results>>
Cycling event schedule>>
Great Britain rider profiles>>
Cycling event guide>>
Photo gallery>>
Every British cycling medal ever won at the Olympic Games
From paupers to kings: The lottery funded revolution>>
Track results at the Worlds and Olympics 2004-2008
Thank you for reading 20 articles this month* Join now for unlimited access
Enjoy your first month for just £1 / $1 / €1
*Read 5 free articles per month without a subscription
Join now for unlimited access
Try first month for just £1 / $1 / €1