HOY STILL PLAYING DOWN HIS SPOTY CHANCES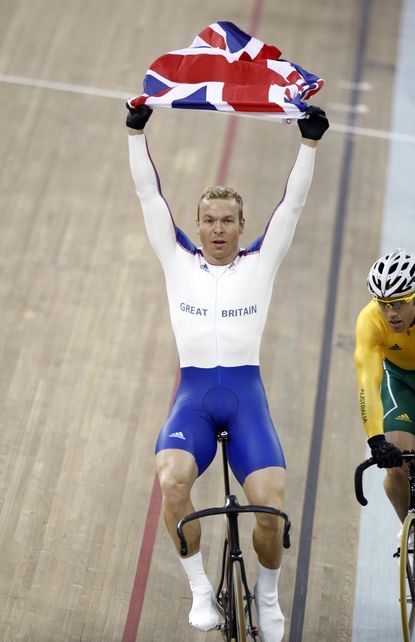 It's Wednesday morning and I'm sat in Harrods café sharing a Pastrami Panini with Britain's most famous sportsman. The man who, if there is any justice in the world, will win the BBC's Sports Personality of the Year award this Sunday.
I can't remember the last time I had such a relaxed chat with Chris Hoy, and I didn't expect it to happen this week. Since his triple gold medal haul in Beijing this August his profile has gone stratospheric. The women 'doing brunch' behind us are testament to this as they occasionally turn round to grab a quick picture of Hoy as he sits and chats.
We're in Harrods as the London store launched 100 BMX bikes in Chris Hoy's name this week, and held a press gathering to drum up some interest. But, unbelievably, only myself and Richard Moore, Hoy's biographer and the Guardian's cycling correspondent, are here.
A third journalist turns up a little later, but it's very low-key for the Scotsman who's barely been out of the public eye since returning from the Olympics.
Of course, this suits me down to the ground as there's plenty of time to quiz Hoy on his immediate and future plans. Talk immediately turns to this weekend's SPOTY awards, that after a stella year for British sport are gaining widespread attention.
"Any one of the last ten would be a worthy winner," Hoy says in his typically diplomatic style. Hoy's new found super stardom status obviously hasn't gone to his head, and there's no clue in his words or tone that suggests that he thinks he should win.
He doesn't even entertain the thought of building a rivalry, mock or otherwise, between himself and Lewis Hamilton, Becki Adlington or Andy Murray. "I certainly wouldn't begrudge any votes [Hamilton] gets because I think what he's achieved is incredible. I remember watching a documentary about him before the start of last season, it was the documentary of where he'd come from and how he's progressed through the ranks, from carting to formula one. It was a great story and he comes across as a really nice, likable guy.
"Aside from all the technology, and all the debate about the cars, to be able to do what he's done with the pressure and the media and attention??.. I've had a small taste of what it's like to be in the spotlight, but it must be a hundred times tougher for him to deal with that. So if he won, fantastic, but at the same time I would like to see an Olympic athlete win as we only get that chance once every four years.
"It's four years of hard work for one chance. Ben Ainslie, who's won three consecutive gold medals, I think that's an incredible achievement, and obviously Becki Adlington. And then the cyclists, you're spoilt for choice really."
Join the SPOTY debate on the Cycling Weekly forum
Hoy is one of four cyclists in the final ten, to be voted for on Sunday night. He's joined by team mates Bradley Wiggins, Nicole Cooke, and Rebecca Romero. It's a huge change from four years ago when only Wiggins was short-listed after Athens.
"It's great for the sport," says Hoy. "We're starting to get a bit more exposure, and it's well deserved, we've had an amazing four years. It's been coming for a while and those within cycling had seen it coming, but the British public as a whole see it as a sudden rush to stardom."
Hoy will arrive at the Liverpool Echo arena (just hours after taking on Hamilton at the Race of Champions at Wembley stadium) dressed in a kilt and should be heavily involved with the evening's show, although he was keeping it close to his chest. "I think we're doing something as a team at some point in the night, and I think each nominee gets interviewed at some stage. But we know nothing, they want to keep it a surprise I think."
Cycling Weekly is urging it's readers to get behind just one of the cyclists on Sunday night so as not to split the vote and miss the chance of having a cyclist win the high profile award for the first time since Tom Simpson in 1965; and we believe Hoy is the one to back.
No disrespect to the very fine achievements of Romero, Cooke and Wiggins, but all the online polls are currently putting Hoy as third favourite behind Hamilton and Adlington. A pooled CW vote might just make the difference.
There are also rumours that Hoy is going to get the Scottish vote ahead of Andy Murray, as one of the Scottish papers is set to publicly back Hoy in tomorrow's edition.
As the conversation gets round to the other Scottish nominee, Hoy is once again full of praise. "Andy gets a huge amount of stick. I've not read any negative things about me, but when you read things about you, even small things, it can wind you up, and you start thinking?? You read things about other people and you don't really pay much attention to it, but then you think [what if it had been about you]?
"He gets slagged off for being grumpy, and a bit of a moaning teenager, but I think he's got one of the most impressive attitudes when he's on court. His ability to concentrate really impresses me.
"I saw him play a couple of years ago in Wimbledon, and at that time it was clear that this guy had something. He's under immense media pressure and scrutiny but he's dealing with it. He's a young lad, he's made a lot of money and he could easily go off the rails and be seen coming out of nightclubs at three in the morning, but he's committed to his sport and he's determined to get to the top.
"I think that?s very admirable. I think the British public will warm to him eventually. He will win a grand slam title in the next year or two for sure, and he'll mature as a person and an athlete."
Following Sunday's show, Hoy will be back in to full time training in preparation for next year's world track championships as he puts a stop to the constant media engagements, ceremonies and dinners he's been involved with since Beijing. And if he wins on Sunday it's going to be a long time before I get the chance to share another chat and a sandwich with him.
Thank you for reading 10 articles this month* Join now for unlimited access
Enjoy your first month for just £1 / $1 / €1
*Read 5 free articles per month without a subscription
Join now for unlimited access
Try first month for just £1 / $1 / €1
Editor of Cycling Weekly magazine, Simon has been working at the title since 2001. He fell in love with cycling 1989 when watching the Tour de France on Channel 4, started racing in 1995 and in 2000 he spent one season racing in Belgium. During his time at CW (and Cycle Sport magazine) he has written product reviews, fitness features, pro interviews, race coverage and news. He has covered the Tour de France more times than he can remember along with two Olympic Games and many other international and UK domestic races. He became the 130-year-old magazine's 13th editor in 2015.