Hutch starts National 10 as strong favourite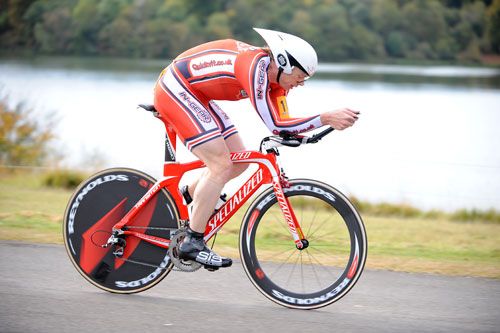 Defending champion Michael Hutchinson will start the National 10 championship on Sunday as the strong favourite.


As he goes in search of his eighth title, the Northern Irishman is still riding as strongly as ever. His 18-52 winning time at last weekend's Lea Valley CC 10 bears testament to his good condition.
Ed Clancy forms part of a three-strong challenge from Motorpoint-Marshalls Pasta. With fellow GB track pursuiters Andy Tennant and Steven Burke among the seeded starters, they are favourites for the podium as well as the team prize.
Some recent club time-trial activity has "rekindled a little light inside me," Clancy revealed to Cycling Weekly.
"I hadn't done it for so long. I used to buzz off it as a kid, it's all I used to do when I was 16, 17. Then when I joined the Academy, road and track racing..." he trailed off. "It's never been my strongest discipline, but I've always enjoyed doing it."
The RTTC national championship kicks off a hectic six weeks for Clancy, which combines the Tour Series, several Premier Calendar rounds and the national road race championship.
His ambitions for Sunday's race are modest. "I'm not expecting a medal. It'd be good to be around fifth place, in the mix. Me, Burkey and Tennant are there for the team prize; Tennant has the best chance of winning in our Motorpoint team."
"I think he knows it's going to be hard to beat Michael. People like to slag off testers, but you've got to respect what Hutch does. I appreciate he doesn't do anything else, but he's good at what he does, I'll give him that," he added.
Matt Bottrill (I-ride.co.uk) and James Wall (Echelon-Spiuk) are also expected to finish highly.
Julia Shaw (Utag-Yamaha) is the strong favourite to defend her women's title, while Alex Royle and Conor Dunne head the list of junior contenders.
Where: Alcester, Warwickshire
When: Sunday May 23
Related linksHutchinson wins 2009 National 10
External links

National 10 start list