Hutchinson and Shaw win National 50 titles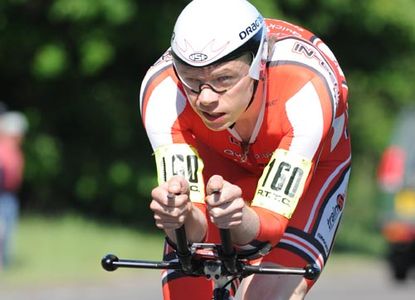 Following their victories in the respective 10 and 25-mile title races, Michael Hutchinson and Julia Shaw were both also crowned the National 50 champions on the A3 in Hampshire after strong performances over the weekend.
UTAG Yamaha.com rider Shaw broke her own competition record by three seconds to win the 2010 title race by a huge 7min 43sec, while In Gear-Quickvit RT rider Hutchinson clocked 1-38-55 in the men's event to set a new course record and championship record.
Shaw's ride was 7-43 quicker than Ferryhill Wheelers' Mathilde Matthijsse, while Team Endura's Avril Swan completed the podium, another 1-10 off the pace in third.
"It went well," said Shaw. "I've ridden the course before so I knew what to expect, and I was glad the temperature dropped from the days before."
There was also a championship record in the women's team event, where London Dynamo managed to get three riders under the two-hour mark. Rebecca Slack (seventh in 1-58-00), Rachel Turner (ninth with 1-59-16) and Jenny Lloyd-Jones (1-59-56) combined for a team time of 5-57-12.
Hutchinson's time was 1-55 quicker than Steve Dennis's old course record, while Hutch's Championship record bettered Graeme Obree's 1993 time by just six seconds.
On the day, Hutchinson's time was 2-15 quicker than second placed Mark Holton (Drag2Zero.com), while Kevin Tye (Datateam Allstars) was third, another 2-14 off the pace.
"I was happy enough with the time gap," said Hutchinson. "But when you look at the 25-mile time, perhaps I could've pulled a bit more out."
More on the National 50 in this week's Cycling Weekly
RESULTS

National 50-mile Championship (Liss, Hampshire)

Men

1. Michael Hutchinson (In Gear Quickvit-Trainsharp) 1-38-55
2. M Holton (Drag2Zero.com) 1-41-10
3. K Tye (Datateam Allstars) 1-43-24
4. S Dennis (East Grinstead CC) 1-43-38
5. B Instone (Scientific Coaching) 1-43-48
6. A Topham (High Wycombe CC) 1-44-21
Women

1. Julia Shaw (UTAG Yamaha.com) 1-46-46
2. M Matthijsse (Ferryhill Wheelers) 1-54-29
3. A Swan (Endura Racing) 1-55-39
4. L Taylor (Born to Bike) 1-56-26
5. L-A Walkling (PB Science.com) 1-57-26
6. C Newland (Welwyn Wheelers) 1-57-57
Thank you for reading 20 articles this month* Join now for unlimited access
Enjoy your first month for just £1 / $1 / €1
*Read 5 free articles per month without a subscription
Join now for unlimited access
Try first month for just £1 / $1 / €1