Ian Drake leaves role as British Cycling chief executive with immediate effect
Ian Drake has left his role as British Cycling chief executive three months earlier than planned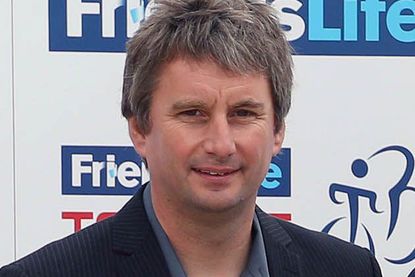 (Image credit: Geoff Caddick/PA Wire)
British Cycling chief executive Ian Drake has stepped down from his role with immediate effect, the national cycling organisation announced on Friday.
Drake announced in October last year was due to leave the role in April, but the BC board has agreed to let him leave three months early. He joined BC in 1995, and has spent the past seven as chief executive.
According to BC, Drake has completed the hand-over process earlier than anticipated. In addition to leaving BC, Drake has also left his position on the Sport England board.
Chief operating officer Jamie Obank will take on Drake's responsibilities until a new chief executive is appointed, a process that BC president Bob Howden says is 'going well'.
>>> British Cycling confirms CEO Ian Drake to step down
"I would like to take this opportunity to recognise Ian's tremendous work for British Cycling as chief executive over the last eight years," said Howden.
"On behalf of the board I wish Ian every happiness in the future. Recruitment for a new chief executive is progressing well and I expect to be in a position to make a further announcement in the coming weeks."
Cycling Weekly understands that Drake made his decision to leave his post at BC early in 2016.
Drake's tenure in BC has seen the nation's cyclists become highly successful on the world stage, dominating track cycling disciplines at the 2008, 2012 and 2016 Olympic Games and winning the Tour de France on four occasions.
However, despite success at the 2016 Rio Games, BC has endured a testing year, with technical director Shane Sutton resigning from his position after allegations of sexism and bullying.
The organisation is also currently part of an investigation by UK Anti-Doping relating to allegations surrounding the use of therapeutic use exemption certificates and a 'mystery package' delivered to Team Sky at the Critérium du Dauphiné in 2011. These developments are not reportedly behind Drake's decision to leave.
"All organisations, particularly those operating at the highest level of sport, periodically require new leadership to take them to greater heights and tackle their new challenges – now is the right moment for both myself and British Cycling to move on," Drake said when he originally announced his intention to step down in October.
Thank you for reading 20 articles this month* Join now for unlimited access
Enjoy your first month for just £1 / $1 / €1
*Read 5 free articles per month without a subscription
Join now for unlimited access
Try first month for just £1 / $1 / €1