Shane Sutton resigns as British Cycling technical director
Shane Sutton steps down from his role as technical director for Team GB, saying the riders need to be able to prepare for Rio 2016 free of distraction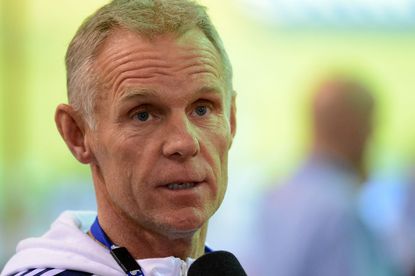 Following his suspension over allegations of discrimination, British Cycling technical director Shane Sutton has resigned his role.
The Australian said his decision was to allow the riders to prepare for the Rio 2016 Olympic Games - which are 100 days away - free from distraction.
>>> What you need to know about the British Cycling discrimination scandal
Andy Harrison, programmes director at British Cycling, will take over Sutton's role with immediate effect in the build-up to the Olympics.
"It is absolutely crucial that, as our athletes begin their final preparations for Rio, they are able to do so free of distraction," Sutton said in a statement.
"The developments over the past few days have clearly become a distraction. It is for this reason, and having spoken to friends and family, that I believe it is in the best interests of British Cycling for me to step down from my position as technical director.
"It is important that the review announced by British Cycling and UK Sport now takes place, and I will obviously co-operate fully with this. I have made clear that I reject the specific claims that have been made against me in recent days, and I look forward to taking a full part in the review process so I can respond to the allegations in detail.
"Cycling is my passion and I have always worked to get the very best out of professional athletes. I am proud of what British Cycling has achieved and I am excited by the potential of the team for Rio. They will always have my full support."
>>> Suspended British Cycling coach Shane Sutton 'upset' by discrimination allegations
Ian Drake, British Cycling chief executive, confirmed that the internal investigation into the allegations made against Sutton by Jess Varnish, Darren Kenny and others, will go ahead.
"I want to put on record my thanks to Shane for his work with British Cycling and the part he has played in our success. We have a lot to be proud of and, with the Olympics and Paralympics this summer, a lot to look forward to," he said.
"As we announced [on Tuesday], we are now putting in place an independent review with UK Sport so that we can investigate the allegations that have been raised in recent days about the culture within the Great Britain Cycling Team. We continue to be committed to promoting equality of opportunity and providing a supportive environment within British Cycling."
Thank you for reading 20 articles this month* Join now for unlimited access
Enjoy your first month for just £1 / $1 / €1
*Read 5 free articles per month without a subscription
Join now for unlimited access
Try first month for just £1 / $1 / €1