'I am not too old. I am not a waste of UK Sport's money. I can win more medals'
Jess Varnish still hopes to compete for Great Britain, despite claiming that she was subjected to sexist comments when her contract was not renewed for the Olympic programme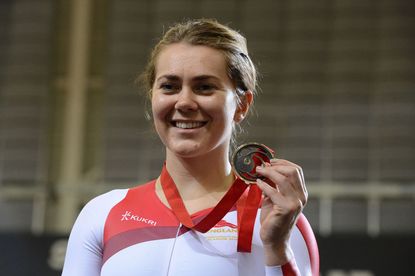 Jess Varnish insists she has not given up on competing at the Rio 2016 Olympic Games, despite being dropped from the British Cycling Olympic programme.
While BC claim she was not offered a new contract because her performance levels had dropped, the 25-year-old claims that she was subjected to sexist comments and bullying.
In an interview with the Daily Mail, Varnish claimed technical director Shane Sutton told her to "go and have a baby", while the Australian said in an interview with the Telegraph that Varnish was "too old" and "not worth wasting UK Sport's money".
"The comment that Shane Sutton told me 'to go and have a baby' is true," Varnish said in a statement on Tuesday. "I stand by all my statements in the Daily Mail interview and have examples of other comments made to me during my time at British Cycling by Shane Sutton dating back many years."
Varnish was critical of BC management in the aftermath of Great Britain's failure to qualify for the team sprint at Rio 2016, claiming that poor selections for big events cost them qualification points.
>>> Nicole Cooke: 'Hypocrisy and double standards in respect to gender are ingrained in cycling'
Sutton insisted Varnish was dropped from the Olympic programme because of her performances, not her criticism - something that Varnish finds hard to accept.
"Prior to the 2016 World Championships I was not once told that I was underperforming," she said. "We have monthly reviews and at no stage was I put under review, or set performance targets to keep my place on the programme.
"The first I knew that the coaches had an issue with my performance levels was 5 days after the 2016 World Championships, when I was told I wouldn't be getting a new contract over the phone.
"During the two year Olympic qualifying process, I gained more qualifying points than any other British female sprint rider. I was consistently performing in the top 5 in the World for Lap 1 times in the Team Sprint, and I have also qualified Olympic places in the individual Sprint and Keirin. Since 2012 I have won medals at the World & European Championships and Commonwealth Games."
Varnish says she was told to prove British Cycling wrong and has travelled to Melbourne to continue her Olympic preparations.
"At 25 years old I feel my best years are ahead of me. Sprinters such as Jamie Staff, Victoria Pendleton and Chris Hoy, all achieved success well into their thirties, so I refuse to believe that my career is finished," she said.
"I also want to compete for Great Britain again. I am not too old. I am not a waste of UK Sport's money. I can win more medals."
Thank you for reading 20 articles this month* Join now for unlimited access
Enjoy your first month for just £1 / $1 / €1
*Read 5 free articles per month without a subscription
Join now for unlimited access
Try first month for just £1 / $1 / €1