'Team sprint women have not been good enough,' says Shane Sutton after Jess Varnish criticism
After Jess Varnish and Katy Marchant lay the blame on the coaches for Britain's failure to qualify the women's team sprint for the Rio Olympics, Shane Sutton says the athletes need to take ownership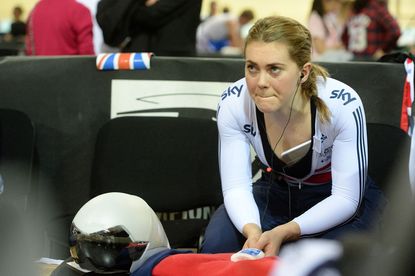 British Cycling technical director Shane Sutton hit back at criticism from team sprinters Jess Varnish and Katy Marchant, saying everyone needs to be accountable for Great Britain not qualifying for the Olympics in the event.
Varnish and Marchant finished fifth in qualifying on the opening day of the UCI Track World Championships in London on Wednesday, not high enough to guarantee them a place in Rio in August.
With Olympic qualification starting in 2014, Varnish said the decisions of the coaches to field development athletes rather than the 'A team' at major events is the reason why Britain has failed to reach the required standard, despite riding a personal best in London this week.
"That was a brilliant ride by them, a personal best, and it shows how they have progressed under their new coaches," Sutton said. "But this programme is about taking ownership and looking at the group, they've collectively not qualified. They've not been good enough.
"A big factor in this is Becky James being out for so long, that's been a drain on resources and in certain World Cups we've fielded different lineups. I'd like to think every athlete on the programme would take responsibility for their performances.
"The resources put into them are unmatched and to shift the blame is unfair on the support services around them. But you have to remember that emotions were running high."
>>> British Cycling is looking to discover next generation of track sprinters, do you fit the bill?
Varnish pointed to the decision to send development rider Rosie Blount to partner her at the European Championships in 2014 as one that has played a part in their failure to qualify.
The pair finished outside the medals just months after Varnish and James won bronze at the World Championships in the spring.
"It should not be their job," Varnish said of the development riders. "To have to qualify for the Olympic Games, it should not be a development programme. It should be A team, A team, A team. It's not happened. This is through absolutely no fault of our own. We're fifth in the world, we've beaten so many of the teams, this is the best we've ever competed and we're not going to the Olympics."
Finishing fifth in qualifying means that Great Britain did not contest the medals in the evening's final, which saw China relegated to silver medal after an illegal changeover, handing Russia the gold.
Great Britain's men also finished outside the medals, qualifying in sixth place on Wednesday.
Thank you for reading 20 articles this month* Join now for unlimited access
Enjoy your first month for just £1 / $1 / €1
*Read 5 free articles per month without a subscription
Join now for unlimited access
Try first month for just £1 / $1 / €1