GB women's team sprint squad fails to qualify for Rio
Team sprinters Jess Varnish and Katy Marchant finished fifth at the Track World Championships in London, failing to qualify for a place at the Rio Olympics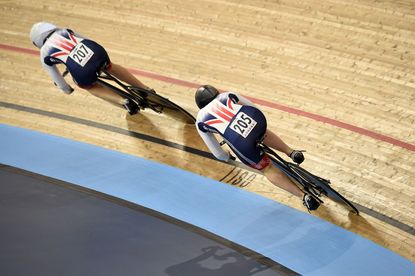 (Image credit: Andy Jones)
Team sprinters Jess Varnish and Katy Marchant vented their frustration at British Cycling's leadership, after GB's desperate attempt to qualify a squad for the event at this summer's Rio Olympics ended at the London Track World Championships today.
The duo finished in fifth place, posting a credible time of 32.820, but they failed to finish two positions ahead of France in today's qualifying round to leapfrog their rivals and qualify for Rio.
Only five European nations can compete in the discipline at the Games; GB sat sixth in the EU nation ranking at the start of the day, with today's race the last opportunity to score points.
The squad were chasing their tail throughout the two-year qualification cycle, and were forced to send full-strength squads to this winter's Track World Cup events in New Zealand and Hong Kong in an attempt to score the required points.
"There's been no real plan, it's been like you might do this here, you might do it here," Varnish said. "I feel sick - I think Katy would agree on this, we put our lives on the line for this and we give it absolutely everything."
Marchant added: "We're in this position through decisions of other people not through any fault of our own," said 22-year-old Marchant. "Me and Jess have given everything, done everything we've been asked of, gone beyond what we needed to do really. So to be fifth in the world and not riding at the Olympics - got no words really."
Varnish, who missed out on contesting the gold medal final in London 2012 after the GB team were disqualified from the heats for an illegal change, singled out team selection as a root of their problems.
In 2014, Rosie Blount — who has now left to BC Programme to study medicine — was paired with Varnish at the European Track Championships, while Danni Khan and Marchant rode at the Track World Cup round in Guadeloupe. Khan has now switched to the endurance squad.
"You've got people who are sort of they're not even on the programme now who actually started the Olympic qualification for us as a team," added Varnish.
Iain Dyer, BC's coach co-ordinator, said the federation would not change anything from the qualification campaign. "Every step of the way we've done our absolute best to put the best team out there and in the best possible shape," he said.
"I think when we look back on our two year qualifying period I honestly don't think we'd consider there would be much that we would change about that.
"Obviously some of our team selections have been forced upon us. No one would have wished Becky [James, who missed most of the qualifying period with knee and shoulder injuries] to be out and it's great to see that she's coming back and finding her form again, but it did deprive us of a double world champion from 2013 going into the 2014 beginning of the qualifying period, which was a shame."
Varnish, Marchant and James (unused today in London, but who watched her team-mates on from track centre) will now turn their attentions to Britain's two places for the individual sprint, and one for the keirin in Rio.
Asked if this summer's Games could be her last, Varnish added: "I'm a 25-year-old athlete now, even though I'm still young I've been around for a long time and you think should I keep putting my lives in these people's hands, because it's my life, I only live once is it going to be worth it?
"How many more times can I keep putting my life on hold making these choices for my career if it's not going to pay off through no fault of our own [sic]?"
Thank you for reading 20 articles this month* Join now for unlimited access
Enjoy your first month for just £1 / $1 / €1
*Read 5 free articles per month without a subscription
Join now for unlimited access
Try first month for just £1 / $1 / €1