Pendleton loses out on guaranteed medal on opening night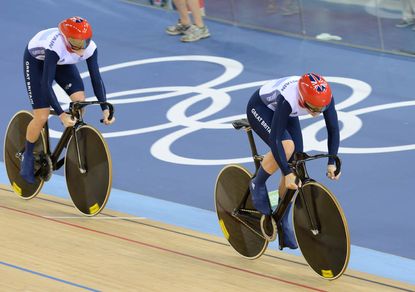 Victoria Pendleton and Jessica Varnish missed out on a certain medal in the team sprint on the opening night of track competition after being relegated from their first round ride against the Ukrainian team.
The British duo rode the second fastest time of 32.567 seconds to put themselves in the gold medal final against China. But the commissaires ruled the pair had changed outside of the specified area (15 metres ahead of the finish line) and relegated them.
"I saw the door and took, it so we're both partly to blame for not changing in the zone," Pendleton said afterwards. "I think it was the commissaires who identified it. They felt the change was illegal and when they looked at the footage they decided it was a metre or so too early. Jess and I were going way faster than we've gone before."
The commissaires at the track world championships in Melbourne this April, most of whom are here tonight, adhered strictly to the rules back then, and continued to do so here in London. "The rules are there to make it fair for everybody and it's best that they stick to the guidelines very closely rather than have a wishy-washy approach to the rules." Pendleton went on to say.
"The rules are there to make it a fair sport and I agree with that. Who knows? It's about whether we could have backed up that time in the final?" The judgement put a premature end to Pendleton's bid for three Olympic medals in her final competition. She will return to compete in the keirin tomorrow.
The Germans were philosophical in victory having been promoted to the gold medal final after Great Britain were relegated, and then from silver to gold medal when the Chinese were relegated in the final. "It wasn't the way we wanted to win because the Chinese girls had gone faster." Said Miriam Welte. "We were the third fastest team in the first round and the GB teams were disqualified, so we were in the gold medal race. I thought, well it's a chance, maybe we can get it."
"The rules are there and we haven't made a mistake, and we've got a gold medal and its amazing," her team mate Kristina Vogel said.
The line on the track to designate the change over area is nothing more than a one metre long piece of white tape. "It is hard to see the lane because you pass it at 65km an hour, and there's just the white tape on the track, and you can't really see it so you have to be fully concentrated." Welte said. "Our coach is on the lane so i can see the coach because i cant see the line."
Thank you for reading 20 articles this month* Join now for unlimited access
Enjoy your first month for just £1 / $1 / €1
*Read 5 free articles per month without a subscription
Join now for unlimited access
Try first month for just £1 / $1 / €1