GB win first gold as women's team pursuit squad battle through
Team pursuit gold for Great Britain but the team is made to work for it after coming under pressure from a rapidly improving Canadian team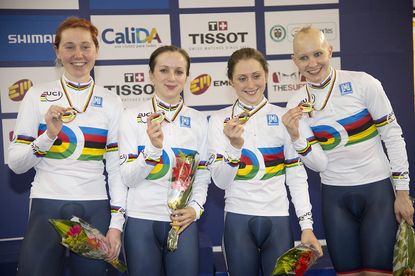 (Image credit: Casey B Gibson)
The British women's team pursuit squad did what was expected of them at the 2014 Track World Championships in Cali, Colombia, winning the gold medal, but only after some quick thinking by Laura Trott in the final stages of a frantic race.
Trott had to ride underneath a rapidly slowing Elinor Barker and try to sprint back up to her team mates to ensure they beat Canada who had lead by over a second at the halfway stage.
"It was horrible," Trott said of the whole 4:23 minute winning ride. "We didn't even stick to our strategy, we just did what we felt was best. At the end Elinor changed down the straight and I hadn't actually made it back on yet."
"I went underneath and that was it, I just had to sprint. I was shouting 'Elinor move up!', I thought if she turned any quicker she'd take me out and then it'd be game over."
Barker was doing her best just to get out of the way of her team mates as she struggled to maintain the pace. "I just could not hold those wheels. It was so fast," she said. "I knew with three-quarters-of-a-lap to go, I couldn't even do a half (lap) and get out, I'd have to do the whole thing. [Then] I completely parked it up."
Barker swung up out of the line as Trott was still above her. With Barker below her left shoulder, Trott had to decelarate to drop down behind Barker before sprinting back towards Rowsell and Archibald.
"It was a split-second decision and I haven't spoken to my coach yet about whether it was the right thing to do or not," Barker said. "I just had to get out of the way and let the girls carry on with it. It was that close that we would've lost it if I'd stayed on the front."
Luckily for the British team the Canadians were at this stage suffering for their fast start that saw them gain 1.2 seconds on the Brits by the two kilometre mark. By the time the British formation faltered the Canadians were a second down and had nothing left to give.
The win brought the British team their fourth world title in a row in this discipline, and maintains their unbeaten record over four kilometres.
Video: Women's team pursuit final
http://www.youtube.com/watch?v=akkXJFf1jIk

No more medals on day two
It was, however, GB's only medal of the day as again they kept missing out on podium performances. Becky James only finished fifth in the 500m tt despite setting a personal best. This is her least favourite event and a non-olympic one at that, but missing out on a medal with a PB proves the rest of the world is moving forward in their performances.
Germany's Miriam Welte won gold as her collection of rainbow jersey's continues to grow. She beat Australia's Anna Meares, who dominated this event pre London 2012, in to second place.
Jason Kenny finished fifth in the men's keirin after a bump of shoulders with Germany's Maximillian Levy halted his sprint going through the bell. "I rode all right, I was working quite hard but I felt I was pushing for medals, bronze or maybe even silver," Kenny said.
Levy's crash was one of several in the men's keirin races today as riders were relegated or disqualified going through the rounds. "I'm not sure whether it's the steepness [of the banking] or a bit of breeze - although it's fairly calm tonight - it's been pretty choppy," said Kenny.
Ireland's Martyn Irvine continued his run of successful performances winning silver in the men's scratch race. As usual Irvine revelled in making the race hard for everyone else before riding away towards the end to gain a lap. Unfortunately for him, Russia's Ivan Kovalev had already gained a lap and had put the peloton between the two of them coming in to the final sprint.
"I'm getting a bit greedy, I always want to go for gold now," Irvine said. "But I'll take silver but the way my form's been, it's been an up and down winter with a crash and some hiccups so I'm just happy to get back on the boards and back at the front end of it."
Video: Martyn Irvine in the men's scratch race
http://www.youtube.com/watch?v=IO9mty0ZsRY
Irvine's wasn't the only ride the Irish had to cheer about. 19 year old Ryan Mullen finished fourth in the individual pursuit after fading in the last kilometre of a closely-fought bronze medal ride against New Zealand's Marc Ryan. Britain's Owain Doull could only qualify in 15th spot
Thank you for reading 5 articles this month* Join now for unlimited access
Enjoy your first month for just £1 / $1 / €1
*Read 5 free articles per month without a subscription
Join now for unlimited access
Try first month for just £1 / $1 / €1