Could the 2014 track worlds be rained off?
Fears for the event grow as storms sweep in and force cancellation of training session - Velodrome in Cali has open sides - Strong winds have blown rain on to the wooden surface - Flooding in the access tunnel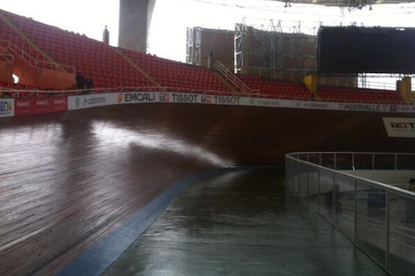 (Image credit: Iain Dyer/Twitter)
The 2014 UCI track cycling world championships are due to start in Cali, Colombia tomorrow (Wednesday, February 26) but for the first time in over a decade the weather is threatening the event.
The track world championships and Olympics moved to indoor velodromes soon after the Atlanta Games in 1996 to avoid disruption from the weather and allow the world championships and world cups to move to the winter season.
However, while the velodrome in Cali has a roof, it also has open sides allowing the rain to sweep in when the wind is blowing. Last week riders due to compete in Cali had been tweeting rumours of water on the track, and a possible hole in the roof, but nothing would have prepared them for this.
Great Britain's track sprint coach Iain Dyer posted these tweets from the team's training session on Monday.
The British team did eventually get on to the track and complete their session as the wood dried out quickly, but it lead Iain Dyer, a long standing member of GB coaching staff and former coach of Sir Chris Hoy and Victoria Pendleton, to question the quality of velodromes that have been used this winter.
The weather forecast for the next week is for more showers.
UCI rule busting
The situation prompts the question; why is the UCI not sticking to its rules of holding world championships on indoor velodromes? However, nowhere in the rules does it say this. Instead it says:
Track events included on the UCI international calendar must be held at a UCI-homologated velodrome. Exceptionally, special dispensations may be granted by the UCI for velodromes in use prior to 2001
The UCI homologation of a track is then described at length, covering everything from the length, to the angle of the banking of the track, the painted lines, the lighting and various facilities for officials.
The UCI also classifies tracks into four categories. Category number one is for Olympic events and world championships. But again, this only concerns the length of the track, the width and the radius of the turns.
The 2014 track world championships are due to start on Wednesday morning.
Thank you for reading 5 articles this month* Join now for unlimited access
Enjoy your first month for just £1 / $1 / €1
*Read 5 free articles per month without a subscription
Join now for unlimited access
Try first month for just £1 / $1 / €1