World titles expected of British track team in Cali
British track team race at the UCI track cycling world championships in Cali, Colombia this week. Shane Sutton is keen to manage the expectation on this very young team.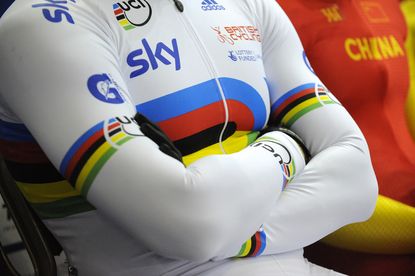 (Image credit: ANDY JONES)
The British track team will go in to the 2014 track cycling world championships looking to perform and looking to win medals, according to head coach Shane Sutton who is in charge of the team in Cali, Colombia.
The external expectations are for another medal haul from this young squad, and Sutton himself suggested six medals would be a good return. "I expect everyone to be the best they can be," he said when interviewed the day before competition began.
"I'd like to think in the Olympic disciplines that we're there or thereabouts, but no one can predict. No one's actually put a marker [down] of what we can achieve. In the real world I'd like to think we're in the mix."
The greatest expectations will rest on the shoulders of Becky James (22) and Laura Trott. James burst out of the shadow of Victoria Pendleton at last year's world championships winning two world titles and four medals from four events. This year will be the first year where she is expected to medal. "Managing her expectations is the biggest challenge," Sutton said.
"She's incrementally gaining speed and strength on a daily basis at this moment in time. She had one or two little setbacks, but making no excuses, it's the worlds, you come here to perform. I've no doubt she'll go in to Rio as the red hot favourite."
James will again compete in all four sprint events, teaming up with Jess Varnish for the team sprint.
Trott, who is still only 21 years old, will again lead the team pursuit quartet as they look to continue their record breaking run of performances, and then compete for an individual medal in the omnium. "Trott is a great inspiration to the young women, in the sprint and endurance. The fact is she leads, and she leads with her legs." Sutton said.
The British women's team pursuit squad haven't been beaten since the world cup here in Cali back in December 2010, and have set an incredible 11 world records in their last 15 competitive rides. Expectation may be on them to deliver another world record, but the track may not favour it. The four that will ride is a slightly different make up too, with Katie Archibald having gained her place in the team ahead of Dani King. "Archibald is more than ready. We're not putting her out there to be slaughtered." Sutton said.
"She has proved her worth over the last few months in training. Her data is great, and she has adapted well to the team. I have chipped her about her hair, it's red, white and blue at the moment. I need to have a word with Trotty [about that]."
King will be reserve and will ride the scratch race. Archibald will ride the points race while both Joanna Rowsell and Elinor Barker will ride the individual pursuit.
The men's team pursuit line-up is newer still. The indefatigable Ed Clancy (28) will be joined by Jon Dibben (20), Owain Doull (20) and Sam Harrison (21), making for an average age of 22.
British riders will compete in every event on the schedule.

Team GB - Who rides what
Women's endurance
Team pursuit: Katie Archibald, Elinor Barker, Joanna Rowsell, Laura Trott
Omnium: Laura Trott
Individual pursuit: Elinor Barker, Joanna Rowsell
Scratch: Dani King
Points: Katie Archibald

Men's endurance
Team pursuit: Ed Clancy, Jon Dibben, Owain Doull, Sam Harrison
Omnium: Ed Clancy
Individual Pursuit: Owain Doull
Scratch: Sam Harrison
Points: Owain Doull
Madison: Owain Doull, Jon Dibben
Women's sprint
Team sprint: Becky James, Jess Varnish
Sprint: Becky James, Jess Varnish, Vicky Williamson
Keirin: Becky James, Jess Varnish, Vicky Williamson
500m tt: Becky James, Vicky Williamson

Men's sprint
Team sprint: Kian Emadi, Phil Hindes, Jason Kenny
Sprint: Matt Crampton, Jason Kenny
Kilometre tt: Kian Emadi
Keirin: Matt Crampton, Kian Emadi, Jason Kenny
Thank you for reading 20 articles this month* Join now for unlimited access
Enjoy your first month for just £1 / $1 / €1
*Read 5 free articles per month without a subscription
Join now for unlimited access
Try first month for just £1 / $1 / €1