Sir Chris Hoy in the British camp in Cali
Sir Chris Hoy returned to the track worlds this year, but he isn't riding his bike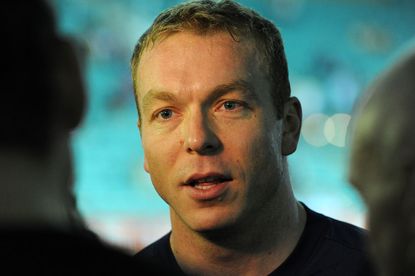 Chris Hoy will be the British team's Mr Inspiration at the track cycling world championships in Cali this week. Head Coach Shane Sutton brought Britain's greates Olympian with him to give the young squad an extra boost at this crucial phase in the build up to Rio 2016.
The current GB cycling team may boast multiple world and Olympic champions but it remains a very young team with no elder statesperson.
"This is still a very young squad and [it helps] having someone here just to hang around the hotel, and chat with them [about] any concerns they've got." Explained Sutton.
"If you've got Chris Hoy here fighting your corner, it's got to be inspiring to all these riders. Coaching is not something he wants to engage in, he's past that, this guy is bigger than people like myself or the coaching team."
"We love him to bits. I don't think we could've asked for anyone better to be in our corner. I'm quite sure he'll be passing out the odd tip here and there."
Sutton believes that British sports need to engage with
former champions so as not to lose their influence from the sport altogether. "You need them to help take these kids on this journey." Sutton said.
"He'll be sitting around chatting with the boys all afternoon. It's just that inspiration, having him here. People will walk down to the pit, see him there [and think] 'Sir Chris Hoy's here!' I'm sure that will give them a tenth [of a second] or two."
Sutton is overseeing the team this week as Performance Director Sir Dave Brailsford misses the championships. Earlier in the month Brailsford said he would assess his position with GB after the track worlds, and that he was finding it increasingly hard to cover both his position with the national team and with Team Sky.
Brailsford also missed the world championships in Belarus last February but Sutton doesn't think he's set to turn his back on the squad. "He hasn't mentioned it to me." Sutton said.
"I'm totally supportive of him. It has been a great partnership and an amazing journey for me so if he did step back it would be a sad day for me - and for British Cycling. The guy's morale, his enthusiasm, has not waned I don't think. I think people are maybe making more of it that he intended because he certainly hasn't said anything to me."
"Right now he is looking after the Olympic medals, putting a strategy together for the track programme which everyone will adopt by the end of March. He has one thing in his mind, which is success in Rio. It's not like on the field of play Dave would make a massive difference here, but he will make a massive difference in projecting where we go to after these worlds. It is important for us he does that donkey work and then I will come in and look at the performance side"
Thank you for reading 5 articles this month* Join now for unlimited access
Enjoy your first month for just £1 / $1 / €1
*Read 5 free articles per month without a subscription
Join now for unlimited access
Try first month for just £1 / $1 / €1