Suspended British Cycling coach Shane Sutton 'upset' by discrimination allegations
In an interview with The Times, suspended British Cycling technical director Shane Sutton firmly denies the discrimination allegations levelled against him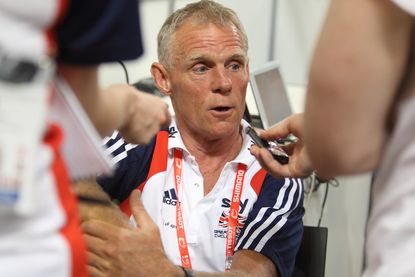 (Image credit: CJ Farquharson)
Suspended British Cycling technical director Shane Sutton says he is upset by the claims of sexism and discrimination that Jess Varnish and others have made against him.
The Australian was suspended by BC on Tuesday night, pending an investigation into the claims, but in an interview with The Times Sutton insists he didn't say any of the things alleged against him.
He denied that he told Varnish, 25, to "go and have a baby" or that she had a "fat arse".
"I have never used the terminology, 'You've got a fat arse.' I'm just really upset she would say that," Sutton said.
The explanation for Varnish's departure from the Olympic programme was that her performances had not been up to scratch, with Sutton telling Cycling Weekly before his suspension that she had been on a "backwards trajectory" since London 2012.
The straight-talking 58-year-old summed it up pretty bluntly to The Times.
"Someone who wasn't up to the job has left the programme and should embrace my comments," he said. "Jess was not one of the greats. It's sad she's come out and said the things she said."
Nicole Cooke and Victoria Pendleton backed up Varnish's claims of a sexist culture within British Cycling, with Pendleton claiming her opinions were not worth as much as those of the male cyclists in the squad.
"I find it astonishing Vicky would wade in, given that on the journey [preparing for] Beijing, I'm up until 3 o'clock in the morning decorating her house in Wilmslow," Sutton said.
"The number of times I've held her in my arms in the track centre when she has capitulated. I was very supportive of her. I'm a bit hurt by the allegations given my relationship with her over the years."
Following further claims that Sutton discriminated against para-cyclists in the Great Britain squad, British Cycling suspended the coach.
"Following the announcement of an independent review into British Cycling's performance programmes, we are also announcing technical director Shane Sutton has been suspended pending an internal investigation into the allegations of discrimination that have been reported in the press," a statement said.
Cycling Weekly spoke to Shane Sutton before his suspension for an interview published in the magazine, on sale on April 28.
Thank you for reading 20 articles this month* Join now for unlimited access
Enjoy your first month for just £1 / $1 / €1
*Read 5 free articles per month without a subscription
Join now for unlimited access
Try first month for just £1 / $1 / €1