Icons of cycling: Condor Cycles
We delve into the history of one of the oldest and most famous bike shops in the country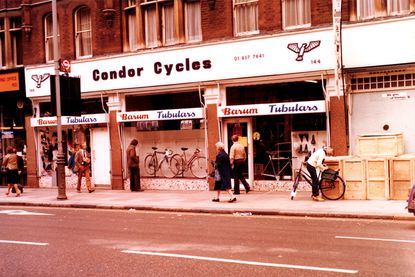 Condor Cycles is more than just a bike shop; it's a veritable church of British road and track cycling. Some of Britain's best riders have raced on Condor bikes, including Tom Simpson and Sir Bradley Wiggins. The shop has always supported racing by sponsoring individuals and professional teams, and has built an enviable brand through good design, customer service, and a little bit of rock star glamour.
>>> Tom Simpson: a life in pictures
Founded in 1948 by Monty Young, the shop has nearly always been on Gray's Inn Road, Holborn, deep in the heart of London. Along with its reputation this location brings it some famous customers, including Mick Jagger and Eric Clapton, who at the last count had bought eight bikes from Condor.
Rock star associations rarely do a brand any harm, but Condor's name has been earned the hard way. The Condor-Makeson team of the 1960s was one of the best in the UK, and team members Colin Lewis, Derek Green and Hugh Porter rode Condor bikes in the Tour de France when the race briefly returned to national teams in 1967 and 1968. Porter also won his first of four world professional pursuit titles on a Condor in Rome in 1968.
Bikes of champions
The steel bikes the Condor riders raced on back then, and other top Condor models, were made by a frame-building genius called Bill Hurlow, whose trademark was cutting fancy but very precise patterns in the fine steel lugs that were used to join steel frame tubes. Condor has never shied away from experimenting, as it did with the Montileggero in the 1970s, which had slotted chainstays to reduce weight.
>>> Blasts from the past: Top five British Pathé cycling videos
After Condor-Makeson, the business still kept sponsoring, either through the Anglia Sport Condor club, a pro team sponsored by London builder Percy Bilton, or in one-off deals — deals like the one struck by Linda Wiggins who visited the shop and asked Grant Young, Monty's son who runs the business today, if he would sponsor her son. He did, and many years later Sir Bradley obviously hadn't forgotten his first sponsorship deal as he attended Monty Young's 80th birthday party.
In 2006 Condor returned to pro team sponsorship as Rapha-Condor, and the second era began, with riders like Ed Clancy, Kristian House and Dean Downing winning national titles on Condor bikes. The story continues today with the JLT-Condor team of young riders managed by John Herety, who raced on a Condor bike during the 1980s as part of the Percy Bilton team.
Thank you for reading 20 articles this month* Join now for unlimited access
Enjoy your first month for just £1 / $1 / €1
*Read 5 free articles per month without a subscription
Join now for unlimited access
Try first month for just £1 / $1 / €1