Inquiry into Jason MacIntyre's death due in March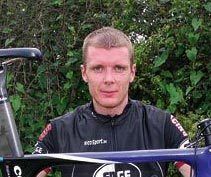 A fatal accident inquiry into the death of Scottish multi-time trial champion Jason MacIntyre has been scheduled for March 1.
MacIntyre died after colliding with a Highland Council truck two years ago - in January 2008 - while on a training ride on the A82 near the council's depot.
The truck's driver, Robert McTaggart, was subsequently fined £500 and banned from driving for six months after pleading guilty to careless driving at Fort William Sheriff Court.
MacIntyre's widow, Caroline, and his family have been pressing for a full investigation into the incident, and had separately been seeking £500,000 compensation from McTaggart and Highland Council for loss of earnings and support.
The inquiry is scheduled to take place over three days at Fort William from March 1, with a premilinary hearing set for February 5.
At the time of his death, MacIntyre was the national 25-mile trime trial champion and had been training to represent Scotland at the Commonwealth Games.
Related links
MacIntyre's family seek £500,000 damages
MacIntyre dies after accident
MacIntyre fund reaches £30,000
Thank you for reading 5 articles this month* Join now for unlimited access
Enjoy your first month for just £1 / $1 / €1
*Read 5 free articles per month without a subscription
Join now for unlimited access
Try first month for just £1 / $1 / €1