Instone in form in Sussex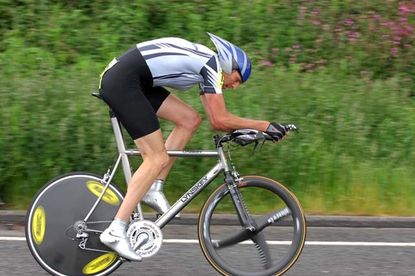 SURREY time trial ace Ben Instone showed he is already reaping the rewards of a hard winter?s training when he slashed more than two minutes off the old course record when he won the Central Sussex CC 17.5-mile event at Steyning, West Sussex, on Saturday.
Instone clocked 35-23 to win the event by 1-38 from rival Pete Tadros, the In Gear rider who had himself broken the old course record but held it for just 2-22 before Instone stopped the clock in impressive fashion.
But Instone was only the second rider to break a course record in Saturday - Chris Birch of East Street cycles had claimed the record for the Andover Wheelers hilly 10.2-mile event earlier in the day in Hampshire.
Birch clocked 25-12 to shave just one second off the 2006 mark of Danny Axford, but it was enough for victory on the day by around a minute and a half from North Hampshire RC?s William Girvan.
Elsewhere, Sam Barker (Planet X) took the honours in the Ely and District Hardriders 25 in Cambridgeshire, pipping rival Lee Bark (Stowmarket and District CC) in what has become a two-horse race in recent years.
Bark won the 2008 event from Barker, while the Planet X rider was victorious in 2007 with a course record time of 56-35. That record was not in danger today, with drizzle, cold and a headwind ensuring times were down.
Barker clocked 58-29 to win by 1-13 from Bark, while Duncan Murphy (Cambridge CC) was third.
And in the weekend?s other time trial, Adrian Lawrence (Lancashire Road Club) made a successful trip over the Pennines to win the Team Swift 9.5-mile event near Selby.
The Bolton-based rider clocked 23-44 to win by 35 seconds from local rider Philip Graves (Clifton CC).
The race was in doubt right up to the morning of the event, but after a risk assessment the organisers were given the go ahead, with snow patches having melted away overnight.
Thank you for reading 20 articles this month* Join now for unlimited access
Enjoy your first month for just £1 / $1 / €1
*Read 5 free articles per month without a subscription
Join now for unlimited access
Try first month for just £1 / $1 / €1